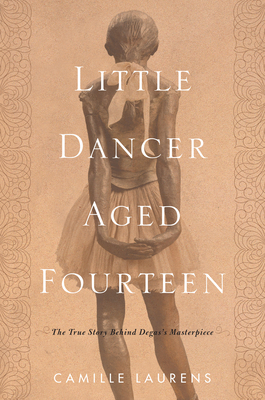 Little Dancer Aged Fourteen
The True Story Behind Degas's Masterpiece
Hardcover

* Individual store prices may vary.
Other Editions of This Title:
Paperback (11/24/2020)
Description
This absorbing, heartfelt work uncovers the story of the real dancer behind Degas's now-iconic sculpture, and the struggles of late nineteenth-century Parisian life. 
 
She is famous throughout the world, but how many know her name? You can admire her figure in Washington, Paris, London, New York, Dresden, or Copenhagen, but where is her grave? We know only her age, fourteen, and the work that she did—because it was already grueling work, at an age when children today are sent to school. In the 1880s, she danced as a "little rat" at the Paris Opera, and what is often a dream for young girls now wasn't a dream for her. She was fired after several years of intense labor; the director had had enough of her repeated absences. She had been working another job, even two, because the few pennies the Opera paid weren't enough to keep her and her family fed. She was a model, posing for painters or sculptors—among them Edgar Degas.
 
Drawing on a wealth of historical material as well as her own love of ballet and personal experiences of loss, Camille Laurens presents a compelling, compassionate portrait of Marie van Goethem and the world she inhabited that shows the importance of those who have traditionally been overlooked in the study of art.
Praise For Little Dancer Aged Fourteen: The True Story Behind Degas's Masterpiece…
"A fascinating hybrid…of art history and art appreciation, a personal narrative that reads like a novel…quixotic, but also magical." —The New Yorker

"[Laurens's] curiosity is contagious, and after reading this elegant pas de deux between the author and her elusive subject, you will surely look at Degas's celebrated tutu-clad ballerina with fresh eyes…moving…Laurens's artful achievement is to make us see the person behind Degas's famous sculpture." —NPR

"Fascinating…part historical chronicle, part artfully discursive personal response and part imaginative close reading of the sculpture's past and present…full of thought-provoking insights and revelations." —Washington Post

"[A] short, erudite investigation into the story behind Degas's masterpiece…[Laurens] provides a glimpse into the art world of 19th-century Paris." —Wall Street Journal

"Compelling…[Laurens] animates this fascinating book by drawing on her capacious imagination, her own love of ballet, and her curiosity about the fate of Degas's model." —National Book Review

"The essence of late nineteenth-century art: Famous man paints nameless woman, her body and image becoming a mantle upon which his notoriety hangs. Who were these women? Typically, no one cares. So it's refreshing to see an author like Camille Laurens who does." —Huffington Post

"[Laurens] spins a compelling and tragic tale of poverty, power, and the arts that raises questions about the artist's responsibility to his subject." —Booklist (starred review)
 
"Well-researched…intriguing…Laurens's fascination with her subject brings this universally recognized piece of art to life." —Library Journal

"Little Dancer Aged Fourteen illuminates a slice of art history with ravishing acuity…a fascinating tour through the past." —Foreword Reviews
 
"Laurens vividly sketches out a history of the abuses of child labor in Paris in the 1880s…insightful." —Kirkus Reviews

"A disturbing and enigmatic story…[Laurens's] book is a meditation on an artist and his forgotten model, forever linked to him through one creation." —Columbus Dispatch

"An evocative tribute to a model, a man, and a moment. Sensitive, human, and profound, this vivid recreation of the sights, sounds, and smells of the nineteenth-century art world is underpinned by solid research, and written in a style which is assured and decisive." —Catherine Hewitt, author of Renoir's Dancer: The Secret Life of Suzanne Valadon

"[Laurens] is one hell of a writer. More than the facts, it's an era that she reconstructs, the harshness of which brings a lump to your throat." —Elle (France)
 
"This fascinating book is…a mirror in which we see our conception of art and of beauty." —Le Magazine Littéraire
 
"Camille Laurens [evokes], through the story of this model plucked from the gutter, a period in which art unsettled the hypocrisy of a society." —Le Figaro
Other Press, 9781590519585, 176pp.
Publication Date: November 20, 2018
About the Author
Camille Laurens is an award-winning French novelist and essayist. She received the Prix Femina, one of France's most prestigious literary prizes, in 2000 for Dans ces bras-là, which was published in the United States as In His Arms in 2004. Her second novel to appear in English, Who You Think I Am (Other Press, 2017), is the basis for a film starring Juliette Binoche. Laurens lives in Paris.

Willard Wood has translated more than twenty-five books from the French. He is a recipient of the Lewis Galantière Award for Literary Translation and a National Endowment for the Arts Fellowship in Translation. He lives in Norfolk, Connecticut.
or
Not Currently Available for Direct Purchase