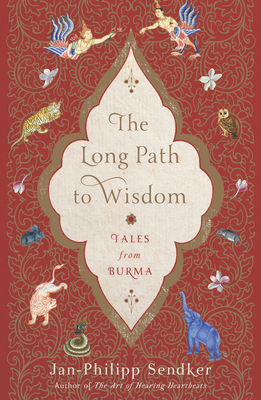 The Long Path to Wisdom
Tales from Burma
Paperback

* Individual store prices may vary.
Description
From the author of the internationally bestselling The Art of Hearing Heartbeats comes this charming collection of folktales that offer a window into Burma's fascinating history and culture.
 
Since 1995 Jan-Philipp Sendker has visited Myanmar (Burma) dozens of times, and while doing research for his novels The Art of Hearing Heartbeats and A Well-Tempered Heart, he encountered numerous folktales and fables. These moving stories speak to the rich mythology of the diverse peoples of Burma, the spirituality of humankind, and the profound social impact of Buddhist thought. Some are so strange he couldn't classify them or identify a familiar moral, while others reminded him of the fairy tales of his childhood, except that here monkeys, tigers, elephants, and crocodiles inhabited the fantastic lands instead of hedgehogs, donkeys, or geese. Their morals resemble those of the Brothers Grimm or Hans Christian Andersen, illustrating how all cultures draw on a universal wisdom to create their myths.
 
The Long Path to Wisdom's evocative stories run the gamut of human emotions, from the familiar to the shocking, and are sure to delight fans of The Art of Hearing Heartbeats as well as those newly discovering the magic of Sendker's incandescent writing.
Praise For The Long Path to Wisdom: Tales from Burma…
"Enchanting…Young and old alike will enjoy traveling through the forests, farms, kingdoms and villages of Burma. The rich landscape is as captivating as the mystical nats (or spirits) that inhabit the pages of this book. Simple writing with complex meaning and rich culture, The Long Path to Wisdom is a great addition to any fairytale collection." —Shelf Awareness

"Delicately balanced between cultural ethnography and poetic vision, Sendker's collection of folk tales, legends and parables takes us on a journey to a lost paradise of the imagination and to a world of real lives whose substance and existence is but a twilight glimmer of all that it was." —Bookanista

Praise for The Art of Hearing Heartbeats:
 
"A lush tale of romance and family set in mid-twentieth-century Burma…beautiful…bound to enchant readers." —Booklist
 
"Magical…It's stories like The Art of Hearing Heartbeats that show how our very existence is important…What a gift that is." —Huffington Post
 
"Brilliant…Sendker's novel proves to be a love story of the most masterful variety…Coupled with an unusual glimpse into the Burma of the 1950s and today, readers will delight in the emotional power of Sendker's storytelling." —Shelf Awareness for Readers
 
"A love story set in Burma…imbued with Eastern spirituality and fairy-tale romanticism." —Kirkus Reviews
 
"Sweetly tragic." —Library Journal
 
"No matter what I even attempt to say, I can't possibly capture the absolute magic of this book. Like a spell, it haunts. Like love, it's going to endure." —Caroline Leavitt, New York Times bestselling author of Pictures of You
Other Press, 9781590519646, 368pp.
Publication Date: October 23, 2018
About the Author
Jan-Philipp Sendker, born in Hamburg in 1960, was the American correspondent for Stern from 1990 to 1995, and its Asian correspondent from 1995 to 1999. In 2000 he published Cracks in the Wall, a nonfiction book about China. The Art of Hearing Heartbeats, his first novel, is an international best seller. He lives in Berlin with his family.

Lorie Karnath is an author, explorer, and lecturer. She was the 37th president of The Explorers Club, and founded The Explorers Museum, a not for profit entity dedicated to preserving and fostering exploration and discovery. She has written numerous books and articles on the sciences, exploration and the arts.

Jonathan Sendker spent a gap year in Myanmar, traveling, doing volunteer work and collecting stories for this book. Upon his return home, he assisted in compiling and formulating the manuscript. Jonathan now studies Liberal Arts & Sciences in Utrecht, the Netherlands.

Lisa Liesener has been translating for almost twenty years and took special pleasure in embarking on a journey filled with spirits, dragons and talking animals. She lived and studied in Germany while completing an engineering degree at the University of Applied Sciences Stuttgart and frequently travels back to visit friends and relatives. Currently, she lives in Connecticut with her family where, when not translating, she directs children's programs at a non-profit organization she co-founded in order to promote education and connection with the natural world.

Kevin Wiliarty has a BA in German from Harvard and a PhD from the University of California, Berkeley. A native of the United States, he has also lived in Germany and Japan. He is currently a Web developer at Hampshire College in Amherst, Massachusetts. He lives in Connecticut with his wife and two children, and also plays bass in a string band.