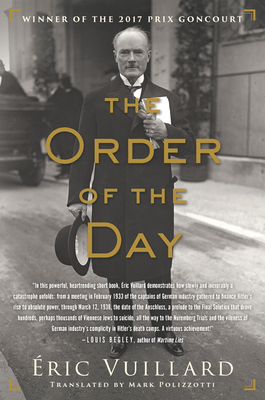 The Order of the Day
Hardcover

* Individual store prices may vary.
Other Editions of This Title:
Paperback (7/28/2020)
Paperback, Chinese (11/2/2019)
MP3 CD (9/25/2018)
Compact Disc (9/25/2018)
Description
Named a Best Book of the Year by NPR, Boston Globe, and Literary Hub

Winner of the 2017 Prix Goncourt, this behind-the-scenes account of the manipulation, hubris, and greed that together led to Nazi Germany's annexation of Austria brilliantly dismantles the myth of an effortless victory and offers a dire warning for our current political crisis.
 
February 20, 1933, an unremarkable day during a harsh Berlin winter: A meeting of twenty-four German captains of industry and senior Nazi officials is being held in secret in the plush lounge of the Reichstag. They are there to extract funds for the accession to power of the National Socialist Party and its Chancellor. This opening scene sets a tone of consent that will lead to the worst possible repercussions.
 
March 12, 1938, the annexation of Austria is on the agenda: A grotesque day intended to make history—the newsreels capture a motorized army on the move, a terrible, inexorable power. But behind Goebbels's splendid propaganda, an ersatz Blitzkrieg unfolds, the Panzers breaking down en masse on the roads into Austria. The true behind-the-scenes account of the Anschluss—a patchwork of minor flourishes of strength and fine words, fevered telephone calls, and vulgar threats—all reveal a starkly different picture. It is not strength of character or the determination of a people that wins the day, but rather a combination of intimidation and bluff.
 
With this vivid, compelling history, Éric Vuillard warns against the peril of willfully blind acquiescence, and offers a reminder that, ultimately, the worst is not inescapable.
Praise For The Order of the Day…
Named a Best Book of the Year by NPR, Boston Globe, and Literary Hub

"Vuillard's writing is spare, angry and powerful…a chilling, brilliant look at the rise of fascism in the 1930s that also works as a warning for today." —NPR, Best Books of the Year

"Gripping…a tour de force…this unusual work…peel[s] away the veils of dissimulation, disguise and self-justification that conspire to make historical disasters appear as just the way things happen." —Wall Street Journal

"[A] remarkable account…It captures the bizarre blend of wishful thinking, clownish self-importance, and cold calculation that characterized many of the Nazis' powerful enablers." —The New Yorker

"Extraordinary, disturbingly resonant." —BBC

"Powerful…a sure-footed blend of storytelling and reevaluated history…Each vignette works in isolation. Together they create a compelling picture. Eighty years on from the Anschluss, in an age of fake news and real threats, rising nationalism and diminishing freedoms, they also cohere into a timely cautionary tale." —Star Tribune

"Vuillard has a good eye for issues such as war, empire, the fate of colonized peoples, and the gulf between perception and reality…[His] prose—muscular, concrete, richly inventive, ironic, sardonic, opinionated—is no doubt the feature of The Order of the Day that most appealed to the Goncourt jury. Vuillard is expert at black humor." —New York Review of Books

"[The Order of the Day] scripts the awful behind-the-scenes march, with all its corporate and foreign complicity, from 1933 to Hitler's rise to power in ways so closely observed it feels lived." —Boston Globe, Best Books of the Year

"[A] masterpiece…[Vuillard] illuminates in glorious and ugly precision how the concentration of wealth and power, a cult of personality, political corruption, bigotry, and narcissism are the necessary but sometimes ignored steps that lead to catastrophe." —Kerri Arsenault, Literary Hub, Favorite Books of the Year

"With chilling precision and moral authority, Vuillard draws a straight line between the marching orders Hitler gave to Germany's moguls, and the Anschluss…Vuillard's language is beautifully and economically crafted; his judgments raise crucial questions…a clarion call to our current era." —The Millions

"'Don't believe for a minute that this all belongs to some distant past,' Vuillard writes, and this poetic, unconventional history compels the reader to agree." —Publishers Weekly

"A short, sublime history that provides a necessary and contemporary service by stripping away the mythic quality of Nazi fascism." —PopMatters
 
"In this meticulously detailed and evocative book, history comes alive, and it isn't pretty." —Kirkus Reviews
 
"A slim but powerful volume." —Foreign Policy

"A staggering work…While Vuillard has mastered the art of presenting events with a grotesquely comical slant…he never lets up on the tension…a deeply moving book. Don't miss it." —France-Amérique
 
"In this powerful, heartrending short book, Éric Vuillard demonstrates how slowly and inexorably a catastrophe unfolds: from a meeting in February 1933 of the captains of German industry gathered to finance Hitler's rise to absolute power, through March 12, 1938, the date of the Anschluss, a prelude to the Final Solution that drove hundreds perhaps thousands of Viennese Jews to suicide, all the way to the Nuremberg Trials and the vileness of German industry's complicity in Hitler's death camps. A virtuous achievement!" —Louis Begley, author of Wartime Lies 

"A soul-piercing meditation on how the accretion of individual acts can save civilization—or hurl it into the abyss. Enable or obstruct? That is the choice when the future rests on a knife's edge, Éric Vuillard shows in this haunting tale. His vivid portrait of the greed and timidity of two dozen business and political 'leaders' who refused to see what they might have stopped suggests that the future may well depend on the rest of us finding courage in ourselves and one another." —Nancy MacLean, author of Democracy in Chains: The Deep History of the Radical Right's Stealth Plan for America

"A fresh, multifaceted reexamination of a seemingly well-known moment of twentieth-century history." —World Literature Today
Other Press, 9781590519691, 144pp.
Publication Date: September 25, 2018
About the Author
Éric Vuillard is a writer and filmmaker born in Lyon in 1968 who has written nine award-winning books, including Conquistadors (winner of the 2010 Prix Ignatius J. Reilly), and La bataille d'Occident and Congo (both of which received the 2012 Prix Franz-Hessel and the 2013 Prix Valery-Larbaud). He won the 2017 Prix Goncourt, France's most prestigious literary prize, for L'Ordre du Jour. His most recent book, Sorrow of the Earth, was his first published in English; The Order of the Day is his second. He lives in Rennes, France.
 
Mark Polizzotti has translated more than fifty books from the French, including works by Gustave Flaubert, Patrick Modiano, Marguerite Duras, André Breton, and Raymond Roussel. A Chevalier of the Ordre des Arts et des Lettres and the recipient of a 2016 American Academy of Arts & Letters Award for Literature, he is the author of eleven books. He directs the publications program at the Metropolitan Museum of Art in New York.