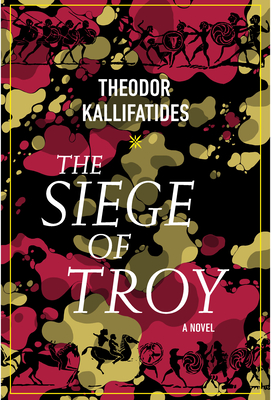 The Siege of Troy
A Novel
Paperback

* Individual store prices may vary.
Other Editions of This Title:
Digital Audiobook (12/9/2019)
Description
In this perceptive retelling of The Iliad, a young Greek teacher draws on the enduring power of myth to help her students cope with the terrors of Nazi occupation.

Bombs fall over a Greek village during World War II, and a teacher takes her students to a cave for shelter. There she tells them about another war—when the Greeks besieged Troy. Day after day, she recounts how the Greeks suffer from thirst, heat, and homesickness, and how the opponents meet—army against army, man against man. Helmets are cleaved, heads fly, blood flows. And everything had begun when Prince Paris of Troy fell in love with King Menelaus of Sparta's wife, the beautiful Helen, and escaped with her to his homeland. Now Helen stands atop the city walls to witness the horrors set in motion by her flight. When her current and former loves face each other in battle, she knows that, whatever happens, she will be losing.

Theodor Kallifatides provides remarkable psychological insight in his version of The Iliad, downplaying the role of the gods and delving into the mindsets of its mortal heroes. Homer's epic comes to life with a renewed urgency that allows us to experience events as though firsthand, and reveals timeless truths about the senselessness of war and what it means to be human.
Praise For The Siege of Troy: A Novel…
"Kallifatides has done a splendid job of retelling The Iliad…[The Siege of Troy] possesses the elegance and eloquence of simplicity. It's a lovely introduction to Homer's original." —Booklist

"An enigmatic teacher brings the Trojan War to unforgettable life, while her private ambiguity provides a compelling counterpoint to this concise and powerful novel." —Shelf Awareness

"Violent and poetic, with memorable psychological depth…Kallifatides's reworking of Homer's epic provides an intriguing take on the human dimension of the myth and strikes a rich, resonant note." —Publishers Weekly

"A unique retelling of The Iliad…This is a wonderful novel." —Boston Globe, Most Anticipated Books of the Season

Praise for Another Life:
 
"Kallifatides has written an unusual and refreshing memoir…A fascinating look into a prolific author's mind, especially welcome since there have not been enough English translations of his books." —Kirkus Reviews

"The work of Greek-born Swedish writer Theodor Kallifatides is not widely known in the United States. But based on the merits of his charming, late-life memoir…that shameful wrong needs to be righted. Slender in size, yet anything but slight in scope, this inviting meditation on age, writing and sense of place, beautifully translated into English by Marlaine Delargy, is witty, profound and thoroughly captivating…[an] exquisite book." —BookPage

"In his elegiac, tender meditation on migrations, both geographic and psychic—from one country to another, from one language to another, from youth to old age, from the time of the present to memories of the past—Kallifatides offers his reader a personal politics of the human." —Siri Hustvedt, author of The Blazing World
Other Press, 9781590519714, 208pp.
Publication Date: September 10, 2019
About the Author
Theodor Kallifatides has published more than forty works of fiction, nonfiction, and poetry that have been translated around the world. Born in Greece in 1938, Kallifatides immigrated in 1964 to Sweden, where he began his literary career. As a translator, he has brought August Strindberg and Ingmar Bergman to Greek readers, and Giannis Ritsos and Mikis Theodorakis to Swedish ones. He has received numerous awards for his work in both Greece and Sweden. He lives in Sweden.

Marlaine Delargy has translated novels by John Ajvide Lindqvist, Kristina Ohlsson, and Helene Tursten, as well as The Unit by Ninni Holmqvist (Other Press) and Therese Bohman's Drowned (Other Press). She lives in England.
or
Not Currently Available for Direct Purchase