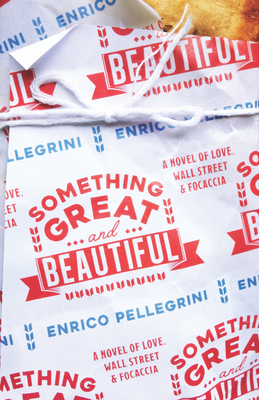 Something Great and Beautiful
A Novel of Love, Wall Street, and Focaccia
Paperback

* Individual store prices may vary.
Description
Sympathetic, good-for-nothing Rosso Fiorentino leaves the beautiful Italian Riviera to follow the woman he loves to America, and soon finds himself the hero of a darkly funny tale when his improbable business plan becomes the rage on Wall Street.

Rosso Fiorentino, a charming loser who dreams of becoming a writer, falls in love with Chloé, a brilliant young woman with a troubled past. They meet in India, where famous Italian novelist the Maestro has decided to spend his last days. They cross paths again in Portofino, and Rosso, following the Maestro's injunction to finally do something worthwhile with his life, enlists the help of his friends, a baker and a street peddler, to follow Chloé to America and sell focaccia on the streets of New York. While Rosso struggles to make a living with odd jobs, Chloé, now armed with a law degree from Chicago, gets hired by a top Wall Street firm.

Rosso is eventually able to achieve his dream, opening a little bakery in Queens, followed by a second on Broadway. The business is an instant success. The banks start throwing money at him, and overnight the company undergoes the largest IPO in U.S. history. At least until the bubble bursts and all plays out in a New York courtroom.

This modern fairy tale about ambition, hubris, love, and redemption exposes the absurdity of the 2008 global meltdown, and foreshadows the future, all with scintillating wit.
Praise For Something Great and Beautiful: A Novel of Love, Wall Street, and Focaccia…
One of BookRiot's "Best Food Books from 2018"
 
"Pellegrini…effectively mocks the Wall Street establishment…entertaining." —Wall Street Journal

"If you don't understand the 2008 financial crisis partially through the lens of the pursuit for a sandwich: you've missed (and should not) Pellegrini's new novel…All satire and indulgence, this is one worth breaking your nonfiction diet for." —BookRiot
  
"Must-read." —New York Post

"This darkly funny, plot-twisting novel…will entertain you." —Town & Country, The Five Books Everyone Will Be Talking About in September

"Both a love story and a witty indictment of the boom-or-bust cycles of the financial world, Something Great and Beautiful is an enjoyable, almost mythical tale written with flair and searing insight." —Booklist
 
"Incisive and satirical…This deceptively light-hearted comedy invites readers to ruminate on what exactly happened with the financial crisis and who is to blame…appealingly offbeat." —Foreword Reviews
 
"This delightfully preposterous send-up of the 2008 economic crash doesn't disappoint…[Something Great and Beautiful] skewers the absurdities of Wall Street, combining the comic with the trenchant to create a winning recipe." —Library Journal

"[A] new delicious novel…charming." —Lucy Sykes, New York Times bestselling author of The Knockoff

"Focaccia and money are very different sorts of bread: here they mingle in a heady, well-paced tale of murky finance, narrated by a very talented author." —Alexander McCall Smith, author of the bestselling No. 1 Ladies' Detective Agency series
 
"Vividly cinematic, wickedly funny, searingly realistic, and intoxicatingly romantic. Enrico Pellegrini's Something Great and Beautiful is indeed beautiful, and a great read." —Ruby Namdar, author of The Ruined House
 
"A dazzling story in which sex and finance are interwoven. I couldn't stop reading it." —Lady Antonia Fraser, author of Marie Antoinette
 
"What an improbable match: a story of love, Wall Street, and focaccia! Delicious!" —Donald Bogle, author of Elizabeth and Michael: The Queen of Hollywood and the King of Pop—A Love Story
 
"I don't know what it's like to be rich and bedeviled, but Enrico Pellegrini does, or at least the narrator of his Dionysian romp of a novel does. With crystalline, delightful, surprising, and above all exuberant prose, we are drawn irresistibly into this world of people whose lives ought to be so fun and easy, and turn out to be even more confusing and discombobulating than our own. If Aristophanes were alive today, he would write just like Pellegrini: he makes us laugh, with sympathy, at the gods disguised as people who are living among us." —Clancy Martin, author of Love and Lies

"This wonderful new book is a must read! Love it!" —Kelly Rutherford
 
"The true wolves of Wall Street from someone who knows them well." —Vanity Fair (Italy)
 
Other Press, 9781590519738, 320pp.
Publication Date: September 18, 2018
About the Author
Enrico Pellegrini was born in Turin, Italy, in 1971. While pursuing a successful career as a lawyer, he made his literary debut at the age of nineteen with the novel Cuor di Panna, and his second novel, La Negligenza, won the prestigious Premio Selezione Campiello. Something Great and Beautiful is his third novel.
or
Not Currently Available for Direct Purchase