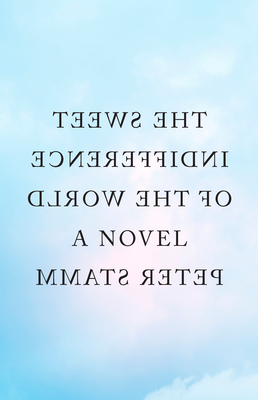 The Sweet Indifference of the World
A Novel
Paperback

* Individual store prices may vary.
Description
NAMED A BEST BOOK OF THE SEASON BY VOGUE

In this alluring, melancholic novel—Peter Stamm at his best—a writer haunted by his double blurs the line between past and present, fiction and reality, in his attempt to outrun the unknown.

"Please come to Skogskyrkogården tomorrow at 2. I have a story I want to tell you." Lena agrees to Christoph's out-of-the-blue request, though the two have never met. In Stockholm's Woodland Cemetery, he tells her his story, which is also somehow hers. Twenty years before, he loved a woman named Magdalena—an actress like Lena, with her looks, her personality, her past. Their breakup inspired him to write his first novel, about the time they were together, and in its scenes Lena recognizes the uncanny, intimate details of her own relationship with an aspiring writer, Chris.

Is it possible that she and Chris are living the same lives as Magdalena and Christoph two decades apart? Are they headed towards the same scripted separation? Or, in the fever of writing, has Christoph lost track of what is real and what is imagined?

In this subtle, kaleidoscopic tale, Peter Stamm exposes a fundamental human yearning: to beat life's mysteries by forcing answers on questions that have yet to be fully asked.
Praise For The Sweet Indifference of the World: A Novel…
"An entrancing tale about a writer haunted by his past self…[Stamm's] stripped-down, pared-back prose still works wonders, exploring complex issues and probing singular minds in a thoroughly compelling way." —Star Tribune

"Acclaimed Swiss writer Peter Stamm tells the mysterious, complex story of a time-traveling love affair that tests the boundaries of reality and raises as many questions as it answers." —Vogue, Best Books to Read This Winter

"Excellent…this amorphous tale folds in on itself, becoming a meditation on how memory can distort reality…Fans of Julian Barnes will love this." —Publishers Weekly

"Haunting…The fascinating overall effect of Indifference makes it a worthy inclusion among Stamm's other compelling novels." —Literary Review
 
"There's a satisfying tension between the complexity of the novel's conceit and the simplicity of the writing…lively and well paced, fully capturing the rhythm of two people walking and speaking…it's a novel about a writer and about people talking, which, in its distortions, takes on larger questions of storytelling and memory." —Los Angeles Review of Books

"The Sweet Indifference of the World explores questions of time, identity, and art in prose that is dreamy, melancholic, and beautiful." —Book Riot

"Adroitly translated by the award-winning Hofmann, [Stamm] explores the timeless doppelgänger phenomenon through dual couples whose fleeting interactions engender intriguing questions about singularity and agency and confirm the impossibility of absolutely sure answers." —Booklist

"An elegant dart of a novel as clear and mesmerizing as an M. C. Escher drawing. I felt both lost and found at once. Peter Stamm is a truly wonderful writer." —Catherine Lacey, Whiting Award winner, Guggenheim fellow, and author of Certain American States, The Answers, and Nobody Is Ever Missing

Praise for Peter Stamm:
 
"One of Europe's most exciting writers…Stamm's talent is palpable, but what makes him a writer to read, and read often, is the way he renders contemporary life as a series of ruptures. Never entirely sure of their position, his characters engage in a constant effort to establish their equilibrium." —New York Times Book Review
 
"Stamm's prose (beautifully translated by Michael Hofmann) is plain but not so simple…A subtle but deadly style." —Zadie Smith
 
"Peter Stamm is an extraordinary author who can make the ordinary absolutely electrifying…Hard to recommend too highly." —Tim Parks
 
"[Peter Stamm] is one of those rare writers whose words haunt his readers long after you put his books down." —Wall Street Journal (Asia)
 
"Stamm's ability to explore dark secrets and lead them towards the light of reason may be cool, even clinical, but it is never completely heartless and is always unforgettable." —Irish Times
 
"A master writer…His prose…is as sharply illuminating as a surgical light." —The Economist
 
"Stamm's writing is taut and economical: every word is carefully chosen, and the deceptively simple style rewards close reading." —Times Literary Supplement
Other Press, 9781590519790, 144pp.
Publication Date: January 21, 2020
About the Author
Peter Stamm is the author of the novels Seven Years, On a Day Like This, and Unformed Landscape, and the short-story collections We're Flying and In Strange Gardens and Other Stories. His prize-winning books have been translated into more than thirty languages. For his entire body of work and his accomplishments in fiction, he was short-listed for the Man Booker International Prize in 2013, and in 2014 he won the prestigious Friedrich Hölderlin Prize. He lives in Switzerland.

Michael Hofmann has translated the work of Gottfried Benn, Hans Fallada, Franz Kafka, Joseph Roth, and many others. In 2012 he was awarded the Thornton Wilder Prize for Translation by the American Academy of Arts and Letters. His Selected Poems was published in 2009, Where Have You Been? Selected Essays in 2014, and One Lark, One Horse: Poems in 2019. He lives in Florida and London.
or
Not Currently Available for Direct Purchase