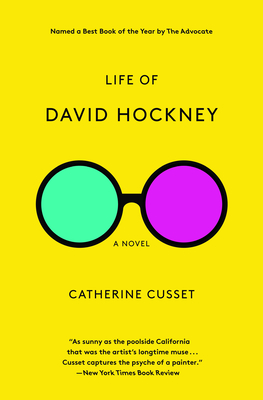 Life of David Hockney
A Novel
Paperback

* Individual store prices may vary.
Description
Named a Best Book of the Year by The Advocate

"Catherine Cusset's book caught a lot of me. I could recognize myself." —David Hockney

With clear, vivid prose, this meticulously researched novel draws an intimate, moving portrait of the most famous living English painter.

Born in 1937 in a small town in the north of England, David Hockney had to fight to become an artist. After leaving his home in Bradford for the Royal College of Art in London, his career flourished, but he continued to struggle with a sense of not belonging, because of his homosexuality, which had yet to be decriminalized, and his inclination for a figurative style of art not sufficiently "contemporary" to be valued. Trips to New York and California—where he would live for many years and paint his iconic swimming pools—introduced him to new scenes and new loves, beginning a journey that would take him through the fraught years of the AIDS epidemic.
 
A compelling hybrid of novel and biography, Life of David Hockney offers an insightful overview of a painter whose art is as accessible as it is compelling, and whose passion to create has never been deterred by heartbreak or illness or loss.
Praise For Life of David Hockney: A Novel…
"Stylish…lucidly written, adheres closely to the outlines of Mr. Hockney's life…novels about artists have certain advantages over straight biographies…the autobiographical roots of art have never been more clear." —Deborah Solomon, New York Times

"As sunny as the poolside California that was the artist's longtime muse…an affirming vision of a restless talent propelled by optimism and chance…Cusset captures the psyche of a painter." —New York Times Book Review

"Vivid scenes…combine with loving descriptions of Hockney's canvases to create an engaging chronicle." —The New Yorker

"Reading Life of David Hockney somehow mimics the experience of looking at a painting by the artist…vivid…compelling." —The Economist

"Moving, amusing, and engaging. The novel is a breezy read, easily enjoyed on a chaise beside a Hockney swimming pool." —Los Angeles Times

"A deeply researched novel…It recounts in detail the path of Mr. Hockney…from modest circumstances in northern England to the heights of the art world." —Wall Street Journal

"A delicate, empathetic writer unabashedly following Hockney from his birth in 1937 with sympathy and understanding…Cusset gets him—you should too." —Boston Herald

"A perfect short exposé of Hockney's life." —Kirkus Reviews

"[A] tour de force…Cusset brilliantly integrates the selectivity of detail enjoyed by a novelist with the more formal structure usually exercised in a nonfiction account." —Booklist

"Cusset writes well and clearly…and tells the story of Hockney's life with economy and style…compelling." —Los Angeles Review of Books

"An inviting and entertaining portrait…Cusset's brisk, engaging novel manages to leave readers with a sense that they know Hockney more intimately than if they'd try to plow through an art history tome." —The Millions, Three Must-Read Novels About Artists

"A masterpiece…A daring blend of biography and novel, [Life of David Hockney] captures Hockney's work with a deep, captivating sense of empathy and understanding." —Bookstr

"A gem…Cusset's imaginative novel captures the journey through time of Hockney's life." —New York Journal of Books

"A compelling exposé on the life of one of the most revered (and financially successful) living artists of our time. Part biography, part novel, Cusset boldly weaves fiction and fact to paint a colorful portrait of the gay artist." —The Advocate, The Best LGBTQ Novels We Discovered This Year

"A dazzling portrait of a man striving for a life at odds with the world. Beautiful, fascinating, and heartrending—this book amazes. I couldn't put it down." —Nick White, author of Sweet and Low

"Cusset magnificently pays homage to the artist, revisiting half a century of art history." —Lire

"At the heart of this exercise in admiration, David Hockney is not only the artist who loves swimming pools, beautiful boys, trees, and the English countryside. He also appears as a fragile hero." —L'Obs

"A work halfway between novel and biography, which plunges us into the fascinating world of the famous British figurative artist." —La Presse
Other Press, 9781590519837, 192pp.
Publication Date: May 14, 2019
About the Author
Catherine Cusset was born in Paris in 1963. A graduate of the École normale supérieure in Paris and agrégée in Classics, she taught eighteenth-century French literature at Yale from 1991 to 2002. She is the author of thirteen novels, including The Story of Jane and L'autre qu'on adorait (short-listed for the 2016 Prix Goncourt), and has been translated into seventeen languages. Cusset lives in Manhattan with her American husband and daughter.
 
Teresa Lavender Fagan is a freelance translator. She has published more than a dozen book-length translations, including Jean Bottéro's The Oldest Cuisine in the World: Cooking in Mesopotamia and Yannick Haenel's Hold Fast Your Crown.