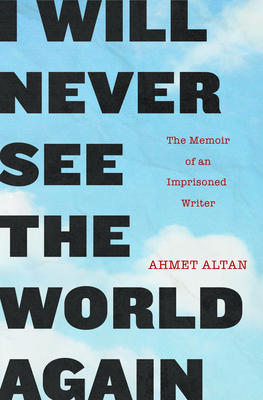 I Will Never See the World Again
The Memoir of an Imprisoned Writer
Paperback

* Individual store prices may vary.
Other Editions of This Title:
Digital Audiobook (9/30/2019)
Description
Best Book of the Year – Bloomberg News

A resilient Turkish writer's inspiring account of his imprisonment that provides crucial insight into political censorship amidst the global rise of authoritarianism.
 
The destiny I put down in my novel has become mine. I am now under arrest like the hero I created years ago. I await the decision that will determine my future, just as he awaited his. I am unaware of my destiny, which has perhaps already been decided, just as he was unaware of his. I suffer the pathetic torment of profound helplessness, just as he did.

Like a cursed oracle, I foresaw my future years ago not knowing that it was my own.
 
Confined in a cell four meters long, imprisoned on absurd, Kafkaesque charges, novelist Ahmet Altan is one of many writers persecuted by Recep Tayyip Erdoğan's oppressive regime. In this extraordinary memoir, written from his prison cell, Altan reflects upon his sentence, on a life whittled down to a courtyard covered by bars, and on the hope and solace a writer's mind can provide, even in the darkest places.
Praise For I Will Never See the World Again: The Memoir of an Imprisoned Writer…
"Urgent…brilliant…a timeless testament to the art and power of writing amid Orwellian repression." —Washington Post

"Remarkable…Altan's talent as a writer allowed him to communicate his experience in rich, haunting detail…Despite the oppressive, cruel darkness at the core of Altan's memoir, his words shine like bioluminescent creatures patrolling the abyss…brilliant." —NPR

"The title of Mr. Altan's book is the statement of a brutal fact, rather than a cry of despair. There is not a smidgen of self-pity in the memoir's 212 pages. What emerges is this: You cannot jail my mind, and you cannot shut me up." —New York Times

"[I Will Never See the World Again] speaks for itself with such clarity, certainty and wisdom that only one thing needs to be said: read it. And then read it again…a radiant celebration of the inner resources of human beings…Its account of the creative process is sublime, among the most perfectly expressed analyses of that perpetually elusive phenomenon. And it is a triumph of the spirit." —The Guardian

"An inspiring testament to the human spirit. Through solitary days and aching bones, Altan shows us that dreams can escape the confines of a concrete cell and spread without limits." —Newsweek

"[I Will Never See the World Again] reads like the travelogue of a restless mind, trapped with its owner inside a cramped prison but determined to stay free." —The Economist 

"Luminous…Intertwining gritty detail with lyrical effusion, Altan's narrative is a searing indictment of Turkey's authoritarian regime and an inspiring testament to human resilience." —Publishers Weekly (starred review)

"[A] phenomenally inspiring memoir. Despite stifling, Kafka-esque circumstances, Altan channels freedom through his imagination." —Booklist (starred review)
 
"An inspiring account of the writing life and a chilling glimpse of authoritarianism's slippery slope." —Kirkus Reviews

"Both delicate and robust; there is a lyricism to this prose that the reader intuitively feels must somehow transcend language itself…a series of generous, enlightened, and deeply life-affirming meditations on what it means to be human in an inhuman world, Altan's memoir liberates the soul even as it throws its author's captivity into excruciatingly sharp relief." —Irish Times
 
"Eloquent and profoundly affecting…Altan's account of living with courage and dignity in grossly unjust circumstances is a testament to human endurance, joining the ranks of the greatest prison memoirs." —The Herald (Scotland)

"I hope that everyone who can read, whatever their politics, reads Ahmet Altan's response to his imprisonment. Repressive regimes hope that if they lock up writers they are also locking up ideas. This will always fail." —Neil Gaiman

"From the bowels of Erdoğan's prison system emerge these meditations on the vicissitudes of justice, products of a richly stocked mind, engrossing, sometimes profound, and remarkable for their equanimity." —J. M. Coetzee 

"Remember the name Ahmet Altan! Add him to the great voices writing from prison across the centuries—Boethius, Cervantes, Gramsci, Soyinka, Solzhenitsyn—and be moved to tears and indignation by his story." —Ariel Dorfman

"Ahmet Altan's memoir is a message in a bottle, a pearl in a bottle, smuggled out to us from Erdoğan's sea of darkness. A startling, heartbreaking testament, I Will Never See the World Again stands with those very rare books—by Frankl, Niemöller, Grossman, Levi, Solzhenitsyn—which bring truths from a furnace where lives are burned. Read this—it will explain why you ever read anything, why anyone ever writes." —A. L. Kennedy 

"A deeply moving memoir, which resounds loudly with the sheer pleasure of writing. We owe Ahmet Altan a tremendous debt for the strength he has shown in sharing his story with us." —Jon McGregor
Other Press, 9781590519929, 224pp.
Publication Date: October 1, 2019
About the Author
Ahmet Altan, born in 1950, is one of Turkey's most important writers. In the purge following the failed coup of July 2016, Altan was sent to prison pending trial for giving "subliminal messages" in support of the coup. In February 2018 he was sentenced to life in prison without parole for attempting to overthrow the government. Fifty-one Nobel laureates have signed an open letter to President Erdoğan calling for Altan's release. Altan is the author of seven essay collections and ten novels.

Yasemin Çongar is the co-founder and general director of P24, a nonprofit platform for independent journalism in Istanbul. She is also the founder of K24, a Turkish literary review, and, most recently, the Istanbul Literature House. An editor, essayist, and translator, Çongar is the author of four books in Turkish.