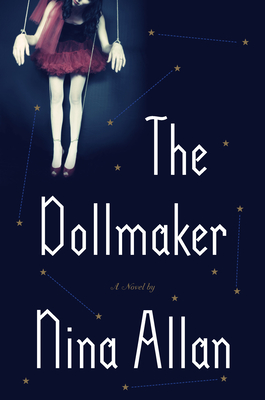 The Dollmaker
A Novel
Paperback

* Individual store prices may vary.
Other Editions of This Title:
Digital Audiobook (10/14/2019)
Description
Named a Best Book of the Year by The Advocate and Tor.com

A love story of two very real, unusual people, and a novel rich with wonders that shines a radically different light on society's marginal figures.

Stitch by perfect stitch, Andrew Garvie makes exquisite dolls in the finest antique style. Like him, they are diminutive, but graceful, unique and with surprising depths. Perhaps that's why he answers the enigmatic personal ad in his collector's magazine.

Letter by letter, Bramber Winters reveals more of her strange, sheltered life in an institution on Bodmin Moor, and the terrible events that put her there as a child. Andrew knows what it is to be trapped; and as they knit closer together, he weaves a curious plan to rescue her.

On his journey through the old towns of England he reads the fairytales of Ewa Chaplin—potent, eldritch stories which, like her lifelike dolls, pluck at the edges of reality and thread their way into his mind. When Andrew and Bramber meet at last, they will have a choice—to remain alone with their painful pasts or break free and, unlike their dolls, come to life.
Praise For The Dollmaker: A Novel…
"Beautifully written and deeply strange." —The Times (UK)
 
"[Allan's] literary sensibility fuses the fantastic and the mundane to great effect." —The Guardian

"A beautifully strange tale of two lonely souls brought together by a shared passion—and a desire to break free from the circumstances that imprison them…Allan creates a vividly real fantasy world somewhere between the universes of Tim Burton and Anne Rice." —The Advocate, The Best LGBTQ Novels We Discovered This Year

"Exquisitely dark…the novel's unusual structure and compelling characters weave a hypnotic plot." —Booklist (starred review)

"This uncanny novel of longed-for connection is worth the effort." —Publishers Weekly

"Exquisite…Whether read as a romance, a fairy tale, a lament, or combinations of the three: The Dollmaker is a bewitching story." —Foreword Reviews (starred review)

"The rich imagery, sentence construction, and deft storytelling lend the novel charm and readability." —Kirkus Reviews

"Reading Nina Allan is the literary equivalent of getting lost in a steampunk-inspired, cutting edge fashion show, letting antique-looking fabrics run through your fingers while you dream of places you've never seen. Her books are cabinets of curiosities, are ye olde shoppes brought to life, are archaeological excavations of the questions that press upon us most urgently." —Book Riot

"A beautiful novel that has sent me scrambling for [Allan's] backlist." —Tor.com, Best Books of the Year

"[An] unsettling, intricately constructed, and teasingly elliptical tale of misfits, outcasts, and outsiders…[Allan's] talents are evident." —Daily Mail

"With distinctly Gothic overtones and a creepy Nabokovian narrator…[The Dollmaker moves] toward fabulation, horror, and even dystopian SF…The stories themselves are worth the price of admission, disturbing non-fairy tales that occupy a territory somewhere between Angela Carter and the more mordant side of Daphne du Maurier…The Dollmaker is a novel that recedes deeper into its own hall of mirrors as you read it, and it's compelling in the same way: you want to find your way out of these reflections, but you want to savor them as well." —Locus

"A uniquely beautiful read." —Image Magazine

"Macabre and spine-chilling…The Dollmaker is atmospherically dark and Allan has written a timeless tale." —Sunday Times (South Africa)

"In clean, beautiful, agile prose, Nina Allan is able to conjure a recognizable England and a place of deep enchantment. The world of The Dollmaker is not only one we know, it seems to know us, and readers will lose and find themselves inside Allan's wonderful creation. A fantastic book, revealing a zone of wonder and a world of truth." —Andrew O'Hagan, author of The Illuminations

"Amazing experiments are still possible with the form of the novel! I was deeply impressed by the complexity of this elegant, beautiful and subtly scary book." —Daniel Kehlmann, author of Measuring the World

"Mesmerizing, richly layered and wholly original—worthy of a modern Grimm." —Andrew Caldecott, author of Rotherweird

"As uncanny and disquieting as a Hans Bellmer photograph, yet rooted—like all of Nina Allan's superb novels—in a minutely observed everyday reality that feels almost too familiar. This is a masterful and multi-layered haunted toyshop of a novel, but who exactly is playing with who?" —Tony White, author of The Fountain in the Forest

"A beautifully uncanny tale in which each moment chimes against every other, doubles abounding, until you—along with the characters—are not sure where flesh becomes doll and vice versa. A haunting meditation on the relation of art to life that will leave you quietly unsettled, and better for it." —Brian Evenson, author of Song for the Unraveling of the World

Other Press, 9781590519936, 416pp.
Publication Date: October 15, 2019
About the Author
Nina Allan is a novelist and short-story writer. Her previous fiction has won several
prizes, including the British Science Fiction Award for Best Novel, the Novella Award, and the Grand Prix de L'Imaginaire for Best Translated Work. She lives and works in Rothesay, on the Isle of Bute, Scotland. The Dollmaker is her third novel.
or
Not Currently Available for Direct Purchase