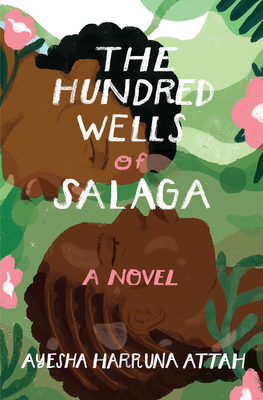 The Hundred Wells of Salaga
A Novel
Paperback

* Individual store prices may vary.
Other Editions of This Title:
Digital Audiobook (10/19/2020)
Digital Audiobook (4/8/2019)
MP3 CD (4/9/2019)
Compact Disc (4/9/2019)
Description
Based on true events, a story of courage, forgiveness, love, and freedom in precolonial Ghana, told through the eyes of two women born to vastly different fates.

Aminah lives an idyllic life until she is brutally separated from her home and forced on a journey that transforms her from a daydreamer into a resilient woman. Wurche, the willful daughter of a chief, is desperate to play an important role in her father's court. These two women's lives converge as infighting among Wurche's people threatens the region, during the height of the slave trade at the end of the nineteenth century.

Through the experiences of Aminah and Wurche, The Hundred Wells of Salaga offers a remarkable view of slavery and how the scramble for Africa affected the lives of everyday people.
Praise For The Hundred Wells of Salaga: A Novel…
"[A] dazzling historical drama." —The New Yorker

"A skillful portrayal of life in pre-colonial Ghana emphasizes distinctions of religion, language, and status…[Attah] has a careful eye for domestic and historical detail." —The Guardian

"Illuminating…Attah's exceptional research of the era shines through, making for a convincing historical novel." —Publishers Weekly

"Compelling…rich and nuanced…Attah is adept at leading readers across the varied terrain of 19th-century Ghana and handles heavy subjects with aplomb. Two memorable women anchor this pleasingly complicated take on slavery, power, and freedom." —Kirkus Reviews

"An alluring story…a novel with the power to open eyes and hearts while filling minds with plenty of food for thought." —Shelf Awareness

"Layered and thought-provoking…Attah gives both shape and immediacy to an insoluble riddle of the human condition." —Los Angeles Review of Books

"Analogous to Tsitsi Dangarembga's Commonwealth Writers' Prize–winning Nervous Conditions, this spacious work will appeal to readers of African and historical fiction." —Library Journal

"Attah's novel gives a texture and specificity to the anonymous tales of the Middle Passage." —The Millions, Most Anticipated

"A harrowing yet moving and important story…compelling…Salaga comes vividly alive as both a seething melting pot and a place where destinies are dictated. Attah's characters are fascinating because they are morally complex…brilliantly and movingly told." —The National 
 
"Beautiful storytelling…beguiling…The Hundred Wells of Salaga will appeal to the heart and the head." —NB
 
"This fascinating novel set in 19th-century Ghana illuminates the social class status that surrounded the slave trade in the region, and how families were both destroyed and reconstructed in light of this evil business." —Electric Literature

"Riveting…Attah expertly layers universal themes of class, gender, freedom, and justice while connecting the stories of two different women…a fascinating read." —Bust

"A powerful and moving novel that intricately explores the Salaga slave market as it hurtles toward its final days, seen through the eyes of two women whose opposite circumstances converge. Attah's gift is her staggering ability to depict the personal within the past, to show us a moment in Ghana's history from those who lived it, making for an urgent, poignant experience." —Gabe Habash, author of Stephen Florida

"An evocative novel that centers on two very different young women brought together at the end of the 19th century in precolonial Ghana. Ayesha Harruna Attah deftly narrates their story while insisting on examining the complicity in slavery at that time…Read this!" —Mona Eltahawy, author of Headscarves and Hymens: Why the Middle East Needs a Sexual Revolution

"Attah expertly juggles the grand, brutal scope of Ghana's history with the mysteries of her family's past. The result is a novel that's as sweeping as it is intimate—a wholly immersive story that explores loss and dignity with wit, wisdom, and astounding compassion." —Grant Ginder, author of The People We Hate at the Wedding
 
"With this necessary examination of West African slavery as it was experienced in West Africa, Ayesha Harruna Attah presents not only a fresh perspective on the transatlantic human trade, but a nuanced exploration of the human heart. A mess of moral contradictions and inconvenient passions are par for the course in The Hundred Wells of Salaga, driving each character to unexpected detours and the story itself past predictable morals." —Nana Ekua Brew-Hammond, author of Powder Necklace
 
"An instant modern classic. Gave me the same feeling as when I finished reading Things Fall Apart; like something deep within me had shifted, and would never be the same again." —JJ Bola, author of No Place to Call Home
Other Press, 9781590519950, 240pp.
Publication Date: February 5, 2019
About the Author
Ayesha Harruna Attah grew up in Accra, Ghana and was educated at Mount Holyoke College, Columbia University, and New York University. Her writing has appeared in the New York Times Magazine, Asymptote Magazine, and the 2010 Caine Prize Writers' Anthology. Attah is an Instituto Sacatar Fellow and was awarded the 2016 Miles Morland Foundation Scholarship for nonfiction. She lives in Senegal.