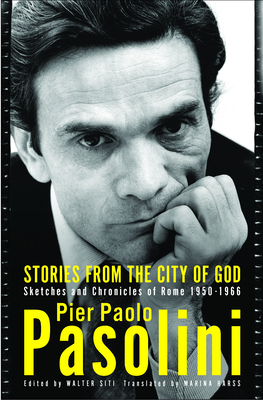 Stories from the City of God (Paperback)
Sketches and Chronicles of Rome
Other Press, 9781590519974, 272pp.
Publication Date: May 21, 2019
* Individual store prices may vary.
Description
Now in paperback, a collection of the legendary filmmaker's short fiction and nonfiction from 1950 to 1966, in which we see the machinations of the creative mind in post-World War II Rome.

In a portrait of the city at once poignant and intimate, we find artistic witness to the customs, dialect, squalor, and beauty of the ancient imperial capital that has succumbed to modern warfare, marginalization, and mass culture. The sketches portray the impoverished masses that Pasolini calls "the sub-proletariat," those who live under Third World conditions and for whom simple pleasures, such as a blue sweater in a storefront window, are completely out of reach.

Pasolini's art develops throughout the works collected here, from his early lyricism to tragicomic outlines for screenplays, and finally to the maturation of his Neo-realism in eight chronicles on the shantytowns of Rome. The pieces in this collection were all published in Italian journals and newspapers, and then later edited by Walter Siti in the original Italian edition.
About the Author
Pier Paolo Pasolini (1922-1975) was an internationally acclaimed writer, poet, critic, actor, director, and filmmaker. Among his most noted films are his epic masterpiece Accatone!, The Gospel According to St. Matthew, Teorema, and Marquis de Sade. He was the author of several novels, most notably The Ragazzi (Ragazzi di vita), as well as books of short stories, essays, and collections of poetry.

Marina Harss is a freelance dance writer and translator in New York. Her translations include For Solo Violin, a war memoir by Aldo Zargani, and stories in The Forbidden Stories of Marta Veneranda, by Sonia Rivera-Vald. Her work has also appeared in Bomb, Brooklyn Rail, and Autadafe.
Praise For Stories from the City of God: Sketches and Chronicles of Rome…
"It's an enriching experience to read through this collection and feel Pasolini passionately responding to the city, the culture, the people, and the country he knew like he knew his own skin. His voice is like no one else's—immediate yet grounded in a brilliant and completely individual perspective, lyrical but never blindly romantic. In every single one of these pieces you feel his heroic modern sensibility taking hold, looking misery and cruelty in the eye without flinching, but also celebrating the best in people." —Martin Scorsese
 
"Pasolini should be better known in English as a writer—as a poet, novelist, and journalist—and this volume provides a good introduction." —The New Yorker
 
"Marvelous…powerful…moving…In Marina Harss's lively translation, these 'chronicles' are more concrete and colorful than the furious polemics of Pasolini's last years…to which they make an excellent prelude." —The Nation
 
"What's ugly and squalid shows its beauty to Pasolini…The short pieces succeed as portraits of people and place during a certain time…The author opens up a window on hidden Rome, a part of the city that continues to exist in certain dodgy corners and presumably always will." —Bloomsbury Review
 
"A gorgeous account of Pasolini's itinerary, migrating between zones of cultural privilege and 'the lower depths.'…Pasolini's lightness of touch and breadth of observation combine in a gestural prose with a revolutionary purpose." —Film Comment