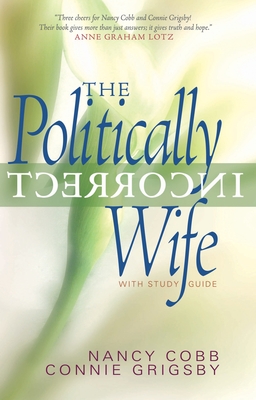 The Politically Incorrect Wife: With Study Guide (Paperback)
With Study Guide
Multnomah Books, 9781590521106, 300pp.
Publication Date: January 10, 2003
Description
Just what is a politically incorrect wife? She is a woman who is married to her husband and not to popular American culture. The politically incorrect wife does not buy into the stifling modern-day thinking that says, "Look out for number one. Treat your husband no better than he treats you." Instead, she cultivates a joyful marriage using transformational spiritual principles. As formerly politically correct wives with miserable marriages, popular speakers and authors Nancy Cobb and Connie Grigsby lead readers confidently beyond the picket lines of the politically correct -- into a warm, rewarding marriage.
About the Author
Connie Grigsby Connie Grigsby, a University of Oklahoma graduate, enjoys pointing others towards life's bottom line. With warmth and humor, she exhorts others to refuse to be content with ho-hum living. Grigsby is a popular teacher and speaker involved in women's and youth ministries. Nancy Cobb Nancy Cobb is a popular speaker at women's retreats. She led a Bible study of over 500 women for four years in Raleigh, North Carolina, and has previously worked on the team of Anne Graham Lotz, daughter of Billy Graham, in teaching seminars to women at the Billy Graham Training Center. She is the Leader of Women's Ministries at Christ Community Church, a congregation of over 5,000, and spends much of her time mentoring younger women. She and her husband, Ray, have four grown children and live in Omaha, Nebraska.
Advertisement