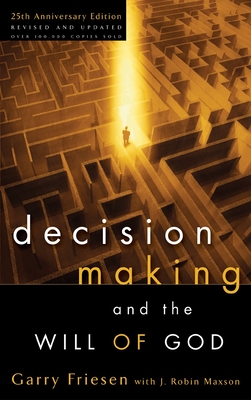 Decision Making and the Will of God (Paperback)
Multnomah Books, 9781590522059, 526pp.
Publication Date: August 11, 2004
Description
Does God Have a Perfect Will for Your Life?
Does God have a perfect will for each Christian? Can you be absolutely certain of God's specific will for
your
life? In this expanded twenty-fifth anniversary edition of his highly acclaimed work, Garry Friesen examines the prevalent view on God's will today and provides a sound biblical alternative to the traditional teaching of how God guides us. This new edition includes these helpful resources:
- Study guide for small groups
- Responses to Frequently Asked Questions
- Guide to painless Scripture memorization
Friesen tackles the very practical issues of choosing a mate, picking a career, and giving in this fresh and liberating approach to decision making and the will of God.
Story Behind the Book
Most Christians have been taught how to find God's will, yet many are still unsure whether they've found it. God does guide His people, but the question is, "How does He guide?" After "putting out a fleece" to decide which college to attend, Garry Friesen began pondering why it was so hard to find God's will when he had so sincerely sought it. Was he the only one who did not have 100 percent clarity for every decision? Then a new possibility struck--perhaps his understanding of the nature of God's will was biblically deficient. Maybe there was a better way to understand HOW God guides.
About the Author
Garry Friesen, ThM, ThD, is a member of the Bible faculty at Multnomah Bible College, where he has taught since 1976. Dr. Friesen holds a bachelor's degree from John Brown University and a master's degree and doctorate from Dallas Theological Seminary. He lives in Portland, Oregon, where he enjoys hosting Bible reading marathons and collecting C. S. Lewis memorabilia. J. Robin Maxson, ThM, is senior pastor of United Evangelical Free Church in Klamath Falls, Oregon.
Advertisement