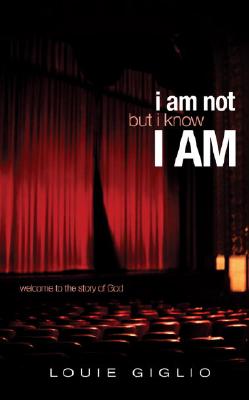 I Am Not But I Know I Am: Welcome to the Story of God (Hardcover)
Welcome to the Story of God
Multnomah Books, 9781590522752, 176pp.
Publication Date: April 26, 2005
* Individual store prices may vary.
or
Not Currently Available for Direct Purchase
Description
We wear ourselves out trying to be smarter, bigger, the center of attention. But dynamic communicator Louie Giglio's latest book puts success back in perspective. When John the Baptist said that he must decrease while Jesus must increase, he was expressing the secret to astonishing freedom…and incredible rest. This book will teach you the rich, meaningful lifestyle of being small. Free from the worries that used to strangle you, you'll radiate the power of the God who is all the things you aren't!

I am not, but God knows my name.

I am not, but He has pursued me in His love.

I am not, but I know the Creator of the universe.

I am not, but I know I AM!

If you see life as your own one-act play and history as your story, you could be in for a rude awakening when the curtain finally closes on your tiny tale—and you discover that life wasn't all about you after all.

The real story of life is God—I AM—the main character and true star of time and eternity. He is at center stage in all of Creation, and He wants you to know Him by name. Knowing I AM means embracing your smallness in light of His greatness.

Savor the true meaning of life as you learn to work and rest in His power, spending your life for what lasts forever—the unending glory that is God's alone.

Story Behind the Book

Louie Giglio recognizes a world and culture that keeps pushing us to be bigger, to be known, to be on top, to be at the center of everything. He encourages those who know how to right-size it all. Instead of pumping up their own programs, agendas, ideas, and plans, their goal is to keep getting smaller in order for Jesus to get bigger. Regarding themselves in relation to Jesus, they have the same goal John the Baptist had: "He must increase, I must decrease."
About the Author
A passionate communicator and innovative thinker, Louie Giglio lives in Atlanta with his wife, Shelley. He's the founder of Choice Resources, the parent ministry for the successful Passion Conferences. Louie is the author of "The Air I Breathe."

As a part of the Passion Network, Louie also heads sixstepsrecords, a worship label partner with Sparrow Records. Committed to cutting-edge, God-focused music, sixsteps is home to familiar Passion players David Crowder, Chris Tomlin, and Charlie Hall.

In addition to his responsibilities with Choice Resources and Passion, Louie speaks throughout the world for various events. Shelley plays an active leadership role in Choice Resources and its related ministries. They are active members of North Point Community Church.
Advertisement