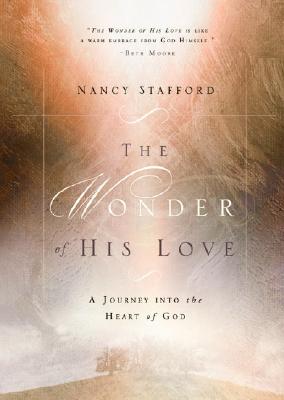 The Wonder of His Love: A Journey into the Heart of God (Hardcover)
A Journey into the Heart of God
Multnomah Books, 9781590523254, 208pp.
Publication Date: June 28, 2004
* Individual store prices may vary.
or
Not Currently Available for Direct Purchase
Description
In thirty-one biblical, highly personal meditations, Nancy Stafford leads us to the edge of an endless sea the vast, incomprehensible ocean of God's love. Nancy reflects upon the terrible beauty of His love, the wonder of forgiveness, waiting in His love, mystery and intimacy, and the calming reality of love that never fails. Each meditation includes a Scripture to ponder and an opportunity to respond to God in prayer. Here are memorable thoughts to cling to through the hours of the day...and night
A Touch A Taste A Testament of Never-Ending Love
Imagine what life would be like if you began to grasp the depth of God's love for you. It would change you. It would calm your fears, transform how you see yourself, and ignite your heart with love for Him and others.
In thirty one stirring reflections, Nancy Stafford offers a fresh glimpse into the many facets of His eternal love. She invites you to wade into the deep, to venture further into the mystery and majesty of His unfathomable love, to embark on a never-ending journey into the heart of God.
Come. Leave the shore. Experience the wonder of His love.
Story Behind the Book
Within these pages, my objective is to merely begin to help readers "dip their toe" into the vastness of God's love for them. My hope is that each piece will draw the reader closer to the heart of God, where His love crowds out fear, cynicism, loneliness, and apathy. I hope readers will be reminded of no, ignited by God's love for them. My prayer is that these thoughts and reflections will give readers new eyes to see God's passionate presence in their own lives and that they will sense His whisper to "taste and see" that He is good, trustworthy, and a lover like no other.
About the Author
Nancy Stafford, author of the popular "Beauty By the Book, "was the costar of "Matlock "(Andy Griffith s law partner) and a series regular on "St. Elsewhere, Sidekicks, "and "The Doctors. "Nancy graduated from the University of Florida and reigned as Miss Florida in 1976. She now hosts "Main Floor, "an internationally syndicated TV show featuring fashion, beauty, and lifestyle trends. She and her husband, Larry Myers, a pastor and musician, live on a ranch near Los Angeles, where they have created a place of retreat for artists, leaders, and "just plain folk." Nancy is a popular speaker at universities, retreats, and conferences."
Advertisement