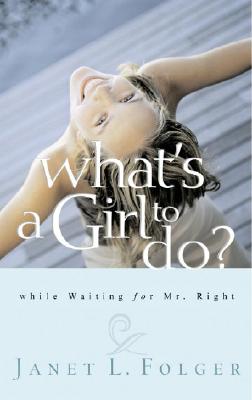 What's a Girl to Do? (Paperback)
While Waiting for Mr. Right
Multnomah, 9781590523308, 240pp.
Publication Date: January 9, 2004
* Individual store prices may vary.
Description
Things to Do with Your Ex-Boyfriend's Shirt:

A. Return it cleaned and pressed in time for his next date.
B. Sew it into a pillow to cry on.
C. Use it to clean out the crud in your refrigerator.

If you chose option C, this book is for you. With quick wit and refreshing honesty, Janet Folger will make you laugh and cry, sparing you the usual Christian singles saccharine.

Enjoy a fun and lively chat with a girl who knows your struggles. "You're alone now—like me," Janet says—"because God has something critically important He wants you to do right now."

Single people could very well be the most effective members of God's kingdom, so Satan gets them to believe they're forsaken by God. But it's a lie. This is an honest, encouraging, and hilarious chat with a woman who knows single people's struggles. Folger's witty insights will clear readers' minds of the lies that destroy their happiness and freedom as single women - all the sooner to find what God has for them to do right now. You'll be encouraged as you pursue the rich, surprising life God made you for.

Story Behind the Book

Writing a book about dating just isn't my thing. Not my area of expertise. Not my focus. But then I started thinking about it. Maybe I have learned some things. Maybe I could add something useful to the mix that hadn't been said already. So I emailed my agent to say I would consider it. Then I broke up with my boyfriend. When my agent telephoned to ask why I hadn't responded to his emails, the call went something like this: "You can forget about the book. I can't even write a pamphlet. How in the world am I supposed to give advice when I can't handle my own love life?" In his pep talk, my agent told me the thing I have going for me is honesty. He told me to picture myself in a coffee shop catching up with friends, trading stories, binding each other's wounds, laughing, refocusing, and re-emerging as the women God wants us to be. So I did.
About the Author
Janet L. Folger is the president of Faith2Action, which works together with the most effective organizations to win the cultural war for faith and family. She also served as the national director of the Center for Reclaiming America, founded by Dr. D. James Kennedy where she launched an online effort that resulted in one of the largest pro-family grassroots armies in the nation – more than 500,000 strong. Her previous book, True to Life, describes her experiences as a pro-life advocate who successfully lobbied for the passage of the nation's first partial-birth abortion ban.