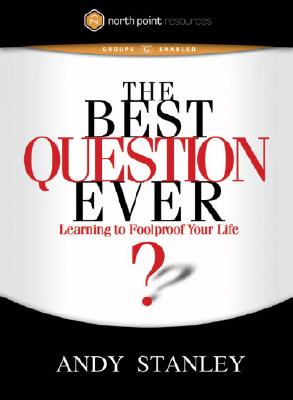 The Best Question Ever DVD: A Revolutionary Way to Make Decisions (DVD-Video)
A Revolutionary Way to Make Decisions
Multnomah Books, 9781590524633
Publication Date: December 22, 2004
* Individual store prices may vary.
or
Not Currently Available for Direct Purchase
Description
Can a Simple Question Foolproof Your Life?
When it comes to sorting out the complexities of life, only wisdom can reveal the best path. Let's face it we ve all made some pretty dumb decisions in our lives. For most of us, there are chapters in the past we would like to rewrite. There's money we wish we had never spent, relationships we wish we had never started, and perhaps a few invitations we wish we had never accepted. Unfortunately, we can t do anything to reverse the bad decisions of the past. But there is certainly no reason to repeat them either. This six-part DVD and study guide focuses our attention on one crucial question that has the power to goof-proof our decision making from this point forward.
Prepare Yourself.
You are about to be introduced to a "question" that will revolutionize the way you make decisions.
Speaker and author Andy Stanley poses this question to give you a filter through which to evaluate "every" decision in "every" arena of your life. Designed for small group or personal study, "The Best Question Ever" DVD is a six-part series that includes the following messages:
1. The Best Question Ever 4. Time Bandits
2. Musical Chairs 5. A Little Help from Our Friends
3. Living on the Edge 6. The Best Decision Ever
In addition to containing the original series messages, this DVD is enhanced with curriculum study sessions. Each session includes twelve to fifteen minutes of teaching followed by several discussion questions. The DVD is further enhanced when combined with "The Best Question Ever" "Study Guide."

Story Behind the Book
In an effort to help people broken by bad decisions, Andy Stanley created a series first called "Fool Proof." While searching the Bible for answers, he discovered the Best Question Ever. Now, after several years of teaching this principle to his church and through the extended home ministries of North Point Community Church, the DVD and study guide material are releasing to a national audience through North Point's relationship with Multnomah.
About the Author
Andy Stanley

Communicator, author, and pastor, ANDY STANLEY founded Atlanta-based North Point Ministries in 1995. Today, NPM is comprised of six churches in the Atlanta area and a network 30churches around the globe collectively serving nearly 70,000 people weekly.

As host of "Your Move with Andy Stanley," with over five million messages consumed each month through television and podcasts, and author of more than 20 books, including "The New Rules for Love, Sex & Dating," "Ask It, How to Be Rich, Deep & Wide, Visioneering," and "Next Generation Leader, " he is considered one of the most-influential pastors in America.

Andy and his wife, Sandra, have three grown children and live near Atlanta. "From the Hardcover edition.""
Advertisement