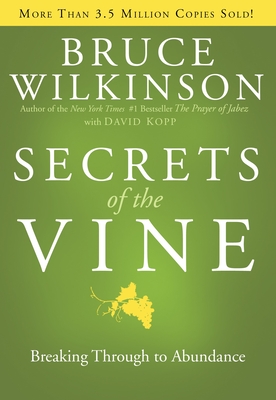 Secrets of the Vine: Breaking Through to Abundance (Hardcover)
Breaking Through to Abundance
Multnomah Books, 9781590524961, 126pp.
Publication Date: January 17, 2006
Description
Step Into God's Vineyard In this attractive repackage of the original bestselling Secrets of the Vine, Dr. Bruce Wilkinson explores John 15 to show you how to make maximum impact for God. Wilkinson demonstrates how Jesus is the Vine of life, discusses four levels of "fruit bearing" (doing the good work of God), and reveals three life-changing truths that will lead you to new joy and effectiveness in His kingdom. Secrets of the Vine will open your eyes to the Lord's hand in your life and will uncover surprising insights that will point you toward a new path of consequence for God's glory. 3.5 million in print Are You Ready to Break Through to the Abundant Life? Is it time to trade in mediocrity for a life of consequence? Do you want to experience the joy of making maximum impact for God? Join Bruce Wilkinson for a journey through John 15. Find out why Jesus is the Vine of life, and explore the four levels of "fruit bearing." You'll learn three surprising secrets that will open your eyes to your unrealized potential in Him...starting today Story Behind the Book Secrets of the Vine rapidly became an international bestseller upon its release four years ago. Today readers continue to count on sound teaching from Bruce Wilkinson. Now with an attractive new cover, this repackage will appeal to those who haven't yet discovered the power of Wilkinson's life-changing message. Anyone looking to deepen their spiritual walk and bring more glory to God will find the vineyard ripe for picking.
About the Author
Bruce Wilkinson serves as the chairman of Dream for Africa, Global Vision Resources, and Ovation Productions. He is the author of the New York Times bestsellers The Prayer of Jabez (R) and Secrets of the Vine (R), as well as The Dream Giver and numerous other books. Bruce and his wife, Darlene Marie, have three children and six grandchildren. They divide their time between Georgia and South Africa.
Advertisement