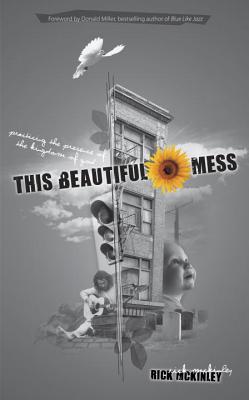 This Beautiful Mess: Practicing the Presence of the Kingdom of God (Paperback)
Practicing the Presence of the Kingdom of God
Multnomah Books, 9781590525012, 208pp.
Publication Date: September 30, 2006
* Individual store prices may vary.
or
Not Currently Available for Direct Purchase
Description
Already Not Yet

When Jesus announced, "the kingdom of God is at hand," what did He mean? Uncover the reality of the kingdom of God and what it might look like if followers of Christ practiced its in-breaking presence. What happens when we view life through the lens of the kingdom? How does the beauty of Jesus' reign break into the mess of our broken lives and world? What if we lived as though a world other than this one was here today? This Beautiful Mess launches a paradigm-shifting journey inviting us to experience the kingdom of God in the ordinary miracle of our everyday lives.

"The kingdom of heaven is like treasure hidden in a field. When a man found it, he…sold all he had and bought that field."
—Matthew 13:44

Jesus' sayings about the kingdom of God just might be the most overlooked of his teachings. Yet the Good News of the kingdom—a treasure beyond price—was what he came to preach.

It's time to ask:

-What is the kingdom Jesus talked about?
-Could it be already here, hidden from sight? If so, where is it?
-How can I be a part of it?

A new generation is tuning in to the teachings of Jesus and to their revolutionary implications. Could it be that living under Christ's reign is not merely a future vision but a present reality?

Rick McKinley's exploration is fresh, accessible, and timely. With careful attention to historical texts, he unveils new understandings of authentic personal and social transformation. The time is now. Your opportunity is here. In the mess of everyday life, you can live in the beautiful presence of the kingdom.

Story Behind the Book

"When we started Imago Dei Community, it was with a passion to be people who live in love with Jesus and live out the values of His kingdom in our city. But we had no idea how to do that. God let us stumble into grace and discover the wide-open plains of His kingdom. This has ruined us in the best way possible. Because once you taste untamed life in the kingdom, you will never go back to the sterile hallways of religion. The beautiful, transforming grace of Christ shows up in the messiness of life and the kingdom breaks in as a beautiful mess."—Rick McKinley
About the Author
Rick McKinley is lead pastor of Imago Dei Community in Portland, Oregon . He's a pretty funny guy who cares a lot about the gospel of Jesus. His passion to see the church become a force of Jesus' love in society motivates him to write books, serve as a pastor, and speak around the country. Rick has a beautiful wife, Jeanne, and four amazing kids.
Advertisement