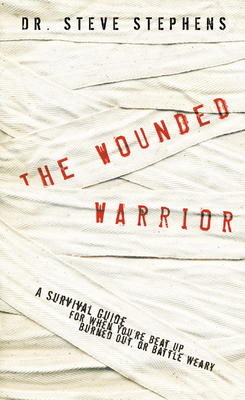 The Wounded Warrior: A Survival Guide for When You're Beat Up, Burned Out, or Battle Weary (Paperback)
A Survival Guide for When You're Beat Up, Burned Out, or Battle Weary
Multnomah Books, 9781590527054, 224pp.
Publication Date: August 15, 2006
Description
Conquering and Victorious Bloodied, beaten, and broken: words associated with the battlefield. Words that spell "defeat," but actually mean strength and courage. Because in order to get the wounds, you must first enlist in the battle. This book is for every man who has boldly said to life, "I'm in," only to come up against inevitable trials and tribulations. The death of a loved one, broken promises, unexpected health problems, a business deal gone bad. The Wounded Warrior takes into account the lasting effects of these gut-wrenching blows...as well as less-often recognized sources of pain. Licensed psychologist Dr. Steve Stephens speaks man-to-man in this powerful book that will free you to become the victor God created you to be. Brave Men Bear Real Wounds Beneath your armor, you may be bloodied, beaten, or broken. Where there was once courage and confidence, you now harbor heartache and pain. Life--in all its glory--has taken its toll. But this is not the end. It is where healing starts and life begins. Dr. Steve Stephens speaks man-to-man about all kinds of wounds from the subtle burden of living with nagging regrets, to gut-wrenching blows that include: a divorce the death of a loved one a business deal gone bad betrayal by a trusted friend wounds from family members, and other devastating trials. More than encouragement and guidance, The Wounded Warrior is packed with pointed questions, scriptural teachings, and honest talk about practical solutions. It's time to move forward...and live once again Story Behind the Book "After speaking on The Wounded Woman, some guys asked me, 'What about us?' I was taken aback and asked, 'What do you mean?' 'Life is hard, ' one of them said. 'People are cruel. As guys, we get beat up, and nobody addresses our wounds. Help us deal with the pain of getting shot down.' Over the next month, I couldn't get this conversation out of my mind. Every day I ran into some wounded warrior: a father facing the death of his son, a husband stunned by the unfaithfulness of his wife, a brother betrayed by a brother. Finally, I recognized I had to write something to encourage us guys."--Dr. Steve Stephens.
About the Author
Dr. Steve Stephens is a licensed psychologist, marriage and family therapist, seminar speaker, and author. He is the author of more than twenty books, with over one million copies sold, including the Lists to Live By series, The Wounded Woman, and 21 Surprisingly Simple Steps to a Great Life. He lives with his wife, Tami, and three children in Oregon.
Advertisement