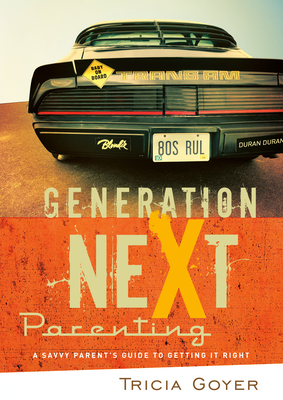 Generation NeXt Parenting
A Savvy Parent's Guide to Getting it Right
Paperback

* Individual store prices may vary.
Description
Get Real, Become Focused, Begin Thriving!

You're a generation of parents aspiring to excellence in every way, but you're also just plain tired. You don't need another parenting book promising perfection or another formula guaranteeing great kids; you need practical advice that shows how to deal with your and your children's hearts. If you're worn out from trying to do too much while giving your child every opportunity under the sun, if you're striving to excel in every way but suffering from a lack of focus, this book is your solution. It will help you understand how your specific tendencies are common to your generation as a whole. You'll embrace the positive qualities that enable you to parent for God's glory. Lay a firm foundation and thrive as you raise up the next generation!

Wanna Do It Right

Without the Expert Advice?

Looking for practical, doable tips and guidance for raising today's kids? Want to help them love God and be all that they can be (even if they don't join the Army)?

If 70s and 80s bands (Run DMC), fashion (hot pink anything), and technology (music on cassette) bring back vivid youthful memories, Generation NeXt Parenting is the resource for you. Like secrets exchanged at recess with a trusted friend, this book offers helpful hints for raising your children during this exact time in history. Extensive research, input from hundreds of Gen X moms and dads, and a variety of Scripture references will help you navigate even the toughest parenting dilemmas.

"Chock-full of useful quotes from experts and everyday parents, this is a grace-infused handbook for Gen Xers navigating the parenting journey."
-Mary E. DeMuth, Author of Building the Christian Family You Never Had

"As a young father, I not only relate to Tricia's message, but I'm very encouraged that there is a fantastic parenting resource for our generation."
-Jordan Rubin, Founder of Garden of Life and author of The Great Physician's RX for Health and Wellness

This book is designed like a magazine (not because you miss reading Seventeen, but because no parent has time to read a book cover to cover) and includes:

   • Quotes from fellow Gen X parents
   • Stats
   • Quizzes
   • Sidebars
   • Song lyrics
   • Study questions
Multnomah, 9781590527481, 305pp.
Publication Date: September 15, 2006
About the Author
Tricia Goyer has played an active role in Bible study groups, parenting programs, and young mom support groups for eleven years. She has written more than 250 published articles, seven books, hundreds of Bible study notes, two nonfiction books, and one children's book. She lives in northwest Montana with her husband and their three children.
or
Not Currently Available for Direct Purchase