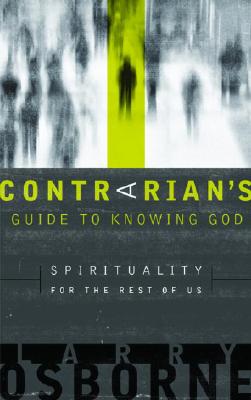 A Contrarian's Guide to Knowing God: Spirituality for the Rest of Us (Paperback)
Spirituality for the Rest of Us
Multnomah Books, 9781590527948, 224pp.
Publication Date: April 17, 2007
* Individual store prices may vary.
or
Not Currently Available for Direct Purchase
Description
"Contrarian thinking at its best simply asks, Is this really true? It speaks up when the politically correct answer or the conventional wisdom doesn't match reality - when things simply don't work the way everyone says they should."
- Larry Osborne

If you don't fit the mold…
If you're tired of adjusting to other people's definitions of spirituality…
If traditional spiritual disciplines just aren't working for you…
If all the standard answers aren't enough…
...but your deepest desire
is to know God more…
Here's Spirituality for the Rest of Us
About the Author
Larry Osborne has served as the senior pastor and directional leader of North Coast Church since 1980. Under his leadership, the church has grown from 128 to 6,500 in weekend attendance and has been recognized as one of the 10 Most Influential Churches in America.

In 1998 North Coast Church pioneered the use of Video Worship Venues as an intentional ministry strategy offering a variety of worship styles and locations. These venues expanded the demographic and geographic outreach of the church to the point that it now offers 23 worship options on five different local campuses each weekend.

Known for its innovative approach to ministry, North Coast also pioneered the use of sermon-based small groups (a lecture/lab model that delves deeper into the weekend message). For 21 years the church has maintained a participation level of over 80% of the weekend adult attendance.

In addition, Larry serves as an adjunct professor for the doctoral and graduate programs at Trinity Evangelical Divinity School and Simpson College. He has traveled around the country speaking to business and church leaders about building healthy teams and innovative leadership.

Larry's down-to-earth teaching style brings God's word alive with insightful real-world application sprinkled with humor. His deep love for the local church and his passion to help pastors and leaders succeed is always evident.

He is the founder and president of the North Coast Training Network and has been a frequent contributor to LEADERSHIP JOURNAL. His book, THE UNITY FACTOR is now in its fourth edition.
Praise For A Contrarian's Guide to Knowing God: Spirituality for the Rest of Us…
"What a great, fun book! Larry Osborne's A Contrarian's Guide made me cringe at certain intersections; at other times I felt the thrill of someone putting into words what I've always felt. He takes the cookies off the top shelf and puts them where we all can enjoy them, as he finishes our incomplete sentences and makes us feel like geniuses.
It's a quick read that's filled with brilliant, disturbing insights. He may not change stodgy theologians, but he may just annoy them closer to Jesus."

-WAYNE CORDEIRO, Coauthor of Culture Shift, Senior Pastor, New Hope Christian Fellowship, O'ahu Honolulu


"Larry Osborne hits it out of the park with A Contrarian's Guide to Knowing God. Practical and engaging, this book calls each of us to a new way of thinking about what it means to build a great relationship with God. It does what every great book has always done: It causes some of us relief, it causes some of us great consternation, and it causes all of us to stop and think about what we're doing and why we're doing it. The concepts Larry shares have blessed and encouraged me as a follower of Christ and a leader in His church. I will definitely move this book to the top of my must-read list for our church family."

-TOBY SLOUGH, Author of Living the Dream and The Great Adventure, Senior Pastor, Cross Timbers Community Church, Argyle, Texas


"This is a refreshingly helpful book for everyone who loves Jesus but has struggled with tidy formulas for spiritual growth."

-MARK DRISCOLL, Author of The Radical Reformission, Cofounder and President, Acts 29 Church Planting Network, Founder, Mars Hill Church, Seattle


"Rich wisdom brilliantly communicated by a very talented writer. Takes the blinders off and opens your eyes to some strange and unique ways God works."

-STEPHEN ARTERBURN, Author of The Secrets Men Keep, Founder and Chairman, New Life Ministries, Radio Cohost of New Life Live


"This book will speak to everyone who has ever felt "left out" spiritually. Larry's insights cut through the commonly accepted, guilt-induced world of religion as he captures the raw essence of New Testament relationship. Reading this book feels like a conversation with Jesus over coffee— simple, profound, biblical, yet completely opposite of what I've learned from America's polluted version of Christianity. Every year, one book grabs my attention and speaks to my soul. A Contrarian's Guide to Knowing God is this year's book."

-CRAIG GROESCHEL, Author of Chazown and Confessions of a Pastor, Senior Pastor of LifeChurch.tv, Oklahoma City


"Larry Osborne puts into words what many of us have wondered about for years but never had the courage to voice publicly. This book affirms us as individuals with unique personalities, learning styles, and gifts while offering sound counsel on the importance of deepening our relationships with God and with each other. A Contrarian's Guide to Knowing God gives us permission to trade our feelings of spiritual inferiority for the confidence to pursue a life with God at the very center of who we are and how we choose to live each day."

-LINDA STANLEY, Director of Next Generation Pastors Leadership Community, Leadership Network


"I've heard all my life that God created each of us uniquely. Larry opened my eyes to the truth that God desires us to know and follow Him as an expression of that uniqueness. With a keen mixture of wit, wisdom, and God's word, A Contrarian's Guide to Knowing God provides a refreshing and insightful look at how the "average guy" can enjoy a meaningful, guilt-free relationship with God."

-CHIP HENDERSON, Senior Pastor of Pinelake Church Brandon, Mississippi


"As a pastor of a church where the average age is twenty-six, I am always looking for down-to-earth resources that will encourage spiritual growth for the "normal people" who come to our church. This book will be at the top of our resource list! Whether you are a seasoned believer or a seeker, A Contrarian's Guide to Knowing God: Spirituality for the Rest of Us will challenge, encourage, and move you to follow Jesus."

-DARRIN PATRICK, Founding Pastor of The Journey, St. Louis


"Larry Osborne has mapped out a brand-new path for spiritual formation in A Contrarian's Guide to Knowing God. This is one of the only books I know that takes you on the path to God without insisting that you be more disciplined and more structured, and that you read a lot more. Finally, a book for the rest of us!"

-DAVE FERGUSON, Coauthor of The Big Idea, Lead Pastor and Spiritual Entrepreneur and Community Christian Church and NewThing Network, Chicago


"If you've ever thought you were the only one challenging a cookie-cutter approach to faith, you need to read this book. Thank God! Osborne shows us how our relationship with God is not a one-size-fits-all approach."

-BILL EASUM, Easum-Bandy Associates, Coauthor of Go Big and Beyond the Box


"Larry Osborne has always seen things a little differently. His fresh look at the church has led to a multisite revolution; now Larry gives us a fresh look at spiritual life that is just as helpful and thought provoking. I highly recommend it."

-ROBERT LEWIS, Coauthor of Culture Shift and The Church of Irresistible Influence, Founder of Men's Fraternity and Pastor-at-large at Fellowship Bible Church, Little Rock


"Larry challenges current notions of spiritual development in a healthy and thoughtful way. Whether you are beginning your journey with God or have been at it a long time, this book will be a powerful blessing and guide."

-BOB ROBERTS JR., Founder of Glocalnet, Senior Pastor of NorthWood Church, Fort Worth, Texas
Advertisement