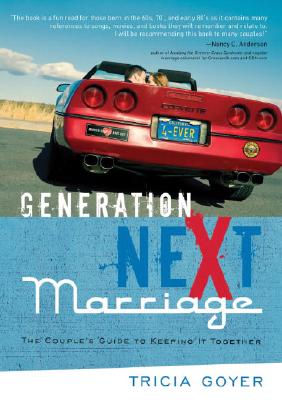 Generation NeXt Marriage
The Couple's Guide to Keeping It Together
Paperback

* Individual store prices may vary.
Description
Do you still find yourself humming the love songs of the 80s and 90s?

Do you still believe that every marriage should be between soul mates?

But...do you wonder how you can succeed at love and marriage when the generation you grew up in didn't?


Marriage isn't what it used to be–it can be better than ever.

If you are a Gen Xer, your marriage has challenges and potentials that no other generation has known. A Gen Xer herself, Tricia Goyer offers realistic help to achieve the God-honoring marriage you long for. She includes…

•Ways to protect your marriage despite the broken relationships modeled in your youth
•Stories, suggestions, and confessions from fellow Gen Xers facing the "What now?" question of real-life marriage
•Advice from the ultimate marriage survival guide: the Bible
•Stats, quizzes, sidebars, and study questions related to this "relationally challenged" time in history
•Practical helps for negotiating kids, work, sex, money, and dirty laundry–sometimes all in the same evening

If you are part of a generation of adults who don't want to bow to their culture or live and love like their parents did . . . this book is for you.
Praise For Generation NeXt Marriage: The Couple's Guide to Keeping It Together…
"Where do Gen Xers find the priceless principles to make a marriage work? Most didn't get them in the homes they grew up in, and they didn't get them from the TV or movies they watched or music lyrics they listened to. But Tricia Goyer, an Xer herself, offers real help and real hope for the Gen X marriage and insightful truths for all who work or minister to those in the Gen X age group."
–Pam Farrel, best-selling author of Men Are Like Waffles–Women Are Like Spaghetti, Red-Hot Monogamy, and The First Five Years

"Generation NeXt Marriage is a much-needed marriage manual for a generation ready to make the most of marriage. Thoughtful, interactive, well researched, and exceptionally relevant for couples who want to thrive in their marriages, this book is a must for beginning and continuing young couples."
–Elisa Morgan, CEO, MOPS International and publisher, FullFill magazine

"Tricia Goyer refuses to play the 'blame game.' This extraordinary Gen Xer, raised in a blended family, steps up to the plate and speaks to ALL generations…but especially to her own. She is gifted and blunt. She shares that it's time to really LIVE and LOVE YOUR HUSBAND GOD'S WAY…and tells the reader just how to do that. Tricia is young enough to be my daughter and wise enough to be my mentor. This book is GenXcellent!"
–Nancy Cobb, author of How to Get Your Husband to Listen to You

"You'll fall in love with your spouse and Tricia Goyer in this powerful and well-researched expose on marriage. Goyer goes deep, sharing intimate issues of her own love story as well as interviews with fellow Gen Xers and excerpts from the best of Christian marriage authors. She tops it off with a thought-provoking Bible study sure to help any marriage."
–Elaine W. Miller, author of Splashes of Serenity: Bathtime Reflections for Drained Wives and Splashes of Serenity: Bathtime Reflections for Drained Moms

"Generation NeXt Marriage is a transparent, authentic look at modern marriage for Gen Xers. Author Tricia Goyer is warm and friendly, offering teaching without preaching as she shares her own struggles and lessons she's learned the hard way. The book is a fun read for those born in the '60s, '70s, and early '80s as it contains many references to songs, movies, and books they will remember and relate to. I will be recommending this book to many couples!"
–Nancy C. Anderson, author of Avoiding the Greener Grass Syndrome and regular marriage columnist for Crosswalk.com and CBN.com

"With fascinating facts, eye-opening honesty, and humor in all the right places, Tricia Goyer delivers biblically based advice to Gen Xers on how to negotiate the speed bumps inevitable in marriage–from unrealistic expectations to intimacy to children to communication to money matters. Not a Gen Xer? No problem. Generation NeXt Marriage has plenty of timeless truths and advice to go around."
–Tamara Leigh, author of Splitting Harriet and Perfecting Kate

"Tricia Goyer is a strong, godly voice for this generation. Her book Generation NeXt Marriage 'gets it.' It is insightful, not to mention fun. A great book for any Gen Xer who is married or is planning to get married."
–Rene Gutteridge, author of the Boo and Occupational Hazards series

"What a needed book! Smart, savvy, witty… Tricia definitely gets this generation and she's put together a great marriage handbook. It's personal and relevant, and I know it's going to be helpful for Gen Xers who want a marriage that can go the distance. Both my sons are getting a copy!"
–Melody Carlson, award-winning author of books for teens and women, including These Boots Weren't Made for Walking, Diary of a Teenage Girl series, and Finding Alice

"This book is different from other marriage books I've read. It has convinced me of the benefits of approaching my marriage within the context of my generation. Gen Xers crave authenticity and relevance. Tricia Goyer delivers both by sharing her own experiences and those of other Gen Xers while backing them up with thorough research and statistics."
–Jennifer Donovan, book reviewer at www.5minutesformom.com

"I felt as if I'd been invited into a fresh, honest conversation as I read through this well-crafted book. This is what a marriage manual should look like. Jump in, newlyweds, and keep the dialogue going in your marriage all the way until death do you part. There really is hope for happily ever after." –Robin Jones Gunn, best-selling author of the Christy Miller series and Take Flight! a Sisterchicks devotional

"How refreshing to finally have a marriage book written specifically for me as a Gen Xer! Tricia Goyer's Generation NeXt Marriage is sure to be a great asset not only to my marriage, but to other Gen Xers who want a great marriage while we struggle to balance raising kids, making a living, and serving God. Generation NeXt Marriage is an indispensable resource for the journey of our lives!"
–Marlo Schalesky, award-winning author of Veil of Fire and Empty Womb, Aching Heart

"I'm a busy Gen Xer who really needs to throw away her all-important 'to do' list, get a baby-sitter, and go on a date with my husband. And Tricia Goyer would tell me to JUST DO IT! In Generation NeXt Marriage, Tricia weaves the lessons she's learned in her own marriage into a casual and practical resource for those of us who need to rethink our priorities and spend more time partnering, playing, and praying with our spouse."
–Melanie Dobson, author of Together for Good and Going for Broke

"Goyer debunks the lies of media and unrealistic romantic expectations, and she shines the truth of God's Word on love and marriage. Highly recommended!"
–Tamera Alexander, best-selling author Rekindled, Revealed, and Remembered

"Tricia's personal vulnerability as well as her substantial research makes Generation NeXt Marriage an invaluable resource. I especially liked her chapter on intimacy. Put her suggestions into practice and your marriage will soar."
–Leslie Vernick, licensed Christian counselor, international speaker, and author of The Emotionally Destructive Relationship and How to Act Right When Your Spouse Acts Wrong

"Tricia Goyer get's it! Generation NeXt Marriage is a book for everyone. Her comparative lists of generational differences are full of surprises…and they're fun! She brings new ideas to old dilemmas. She's been in the trenches, and her voice resonates with the wisdom and hope that we can overcome the petty and not so petty situations that tend to tear marriage apart. Generation NeXt Marriage is helpful, hip, inspiring, motivating–and absolutely joyful!"
–Dolley Carlson, speaker and author of the Gifts from the Heart series

"With a fresh voice and startling honesty, Goyer offers us a book that speaks to a generation in need. She has done her homework. Generation NeXt Marriage is packed with quotes from experts, testimonies from those who have been married awhile, and wisdom Tricia has gained from her own journey in marriage. You are in for a treat."
–Susie Larson, national speaker, freelance writer for Focus on the Family, and author of Alone in Marriage

Multnomah, 9781590529102, 272pp.
Publication Date: January 15, 2008
About the Author
Tricia Goyer is the author of twelve books of fiction and nonfiction, including the Gold Medallion finalist Life Interrupted. Tricia writes for Today's Christian Woman and Focus on the Family, speaks numerous times each year to women's groups, and has been a workshop presenter at the Mothers of Preschoolers (MOPS) national convention. Generation NeXt Marriage is the companion book to the popular Generation NeXt Parenting. Tricia and her husband, John, live with their family in northwestern Montana.
or
Not Currently Available for Direct Purchase