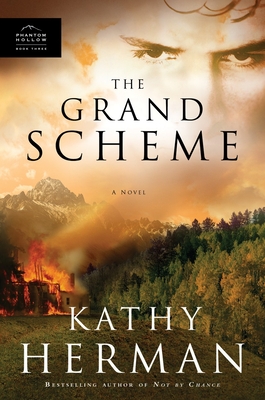 The Grand Scheme (Paperback)
Multnomah Books, 9781590529232, 324pp.
Publication Date: April 15, 2008
* Individual store prices may vary.
or
Not Currently Available for Direct Purchase
Description
Envy is a deadly poison. Faith is the antidote.
Things couldn t be better for Rue Kessler. He just married the mother of his eight-year-old son, Montana, and finally has the family he's always dreamed of. Not only that, his father-in-law hired him to be the new construction supervisor on a big condo project. He's been sober for eighteen months. He's finally plugged in at church. And he's building his wife Ivy the house she's always dreamed of. Life is good.
Then with no warning, Rue and his wife and son become the target of someone's cruel and frightening attacks. What reason would anyone have to dash their hopes and dreams? What will it take to stop it? What defense is there against an enemy he can t see?
While Rue's head is still reeling, a man on his work crew is found half dead in Tanner Canyon. Are the attacks related? Is someone trying to put a stop to the condo project? Or is something more sinister afoot something that will take all the faith he's got to confront?
About the Author
Kathy Herman is the best-selling author of thirteen novels, including the Baxter series, Poor Mrs. Rigsby, and the Seaport Suspense novels. Her thought-provoking stories are ordinary enough to be believable, and extraordinary enough to stick with the reader long after the cover is closed. Kathy and her husband, Paul, live in East Texas and have three grown children and five grandchildren. They enjoy world travel, deep sea fishing, and bird watching sometimes incorporating all three into one big adventure!"
Praise For The Grand Scheme…
"A masterfully woven mystery involving flawed people struggling in a flawed world, where grace and forgiveness are major players in The Grand Scheme. Herman's vivid characters and their conflicts kept me reading well into the night, in the end reminding me of the one hope of mankind–our Savior's unconditional love."
- Linda Windsor, author of For Pete's Sake and Wedding Bell Blues

"Kathy Herman rivets the reader with her trademark blend of family saga and suspense story in The Grand Scheme. The three-dimensional characters leap from the page as Herman weaves a dark tangle of deceit, betrayal, and jealousy into a magnificent tapestry of redemption and forgiveness."
- Jill Elizabeth Nelson, author of the To Catch a Thief series

"The Grand Scheme won't disappoint Kathy Herman fans, who have come to expect strong characters, clever plot twists, and plenty of heart. Herman gives us a story we'll need to stay up all night reading and characters we'll want to mull over and live with long after the book is closed."
- Dandi Daley Mackall, author of Maggie's Story, Crazy in Love, and Love Rules

"Kathy Herman's talent is in getting the reader immersed in her story. I stepped into Jewel's Café on the first page. I cheered for the good guys and scratched my head as they tried to puzzle out the twists and turns of their summer calamities. This is the right book for those readers who like to be a part of the characters' lives on the pages."
Donita K. Paul, author of the best-selling DragonKeeper series

"Never Look Back picks up speed, racing around twists and turns, so you have to hang on tight until the end. Now I need to read the next book in the series."
- Lauraine Snelling, best-selling author of The Brushstroke Legacy, The Red River of the North and Dakota Treasures Series

"Once again, Kathy Herman creates a world full of intrigue and suspense, full of characters easy to love, with poignant emotional and spiritual threads that transcend story and touch hearts. I cheered for Ivy and Montana and their story of hope and second chances. Don't miss Never Look Back!"
- Susan May Warren, award-winning author of In Sheep's Clothing

"Kathy Herman just keeps getting better. The deep characters, heartfelt storyline, and escalating drama in Never Look Back left me wanting more. Congratulations, Kathy!"
- Creston Mapes, author of Nobody


"Kathy Herman is a master at weaving heart-racing mystery and biblical precept into unforgettable narrative. Not only will the twists and turns in Ever Present Danger keep the pages turning, her characters will inhabit the soul." 
- Deidre Pool, author of Loving Jesus Anyway
Advertisement