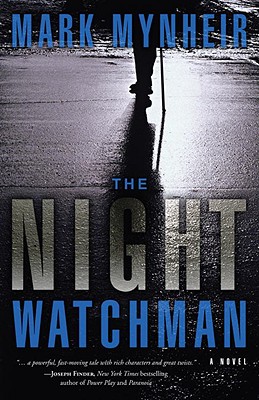 The Night Watchman (A Ray Quinn Mystery #1) (Paperback)
Multnomah, 9781590529355, 352pp.
Publication Date: May 5, 2009
Other Editions of This Title:
Hardcover, Large Print, Large Print (4/1/2010)
* Individual store prices may vary.
Description
Eleven months ago, Ray Quinn was a tough, quick-witted Orlando homicide detective at the top of his game--until a barrage of bullets ended his career…and his partner' s life.

Now medically retired with a painful handicap, Ray battles the haunting guilt for his partner's death. Numbing the pain with alcohol and attitude, Ray takes a job as a night watchman at a swanky Orlando condo.

But when a pastor and an exotic dancer are found dead in one of the condos in an apparent murder-suicide, Ray can no longer linger in the shadows. The pastor's sister is convinced her brother was framed and begs Ray to take on an impossible case--to challenge the evidence and clear her brother's name.

Ray reluctantly pulls the threads of this supposedly dead-end case only to unravel a murder investigation so deep that it threatens to turn the Orlando political landscape upside down and transform old friends into new enemies. As Ray chases down leads and interrogates suspects, someone is watching his every move, someone determined to keep him from ever finding out the truth--at any cost.
About the Author
A detective with the Criminal Investigations Unit of the Palm Bay Police Department, Mark Mynheir investigates violent crimes and writes riveting Christian fiction. A U.S. Marine with a passion for martial arts and firearms training, Mark has worked on narcotics units, SWAT teams, and in a myriad high-risk situations. His novels offer a realistic glimpse into the gritty world of law enforcement and the rarely seen raw emotions behind the badge. Mark lives in Florida with his wife and three children.
Praise For The Night Watchman (A Ray Quinn Mystery #1)…
"With dialogue so realistic that it sounds like crime scene dictation, Mynheir renders a flawed, emotionally haunted, staunchly decent protagonist in retired detective Ray Quinn. The reader cannot help but root for him to defeat his personal demons. The warmth of this story rings true and feels deserved."
–Anthony Flacco, screenwriter and author of The Hidden Man and The Last Nightingale

"What a rare pleasure it is to discover a suspense novelist as talented as Mark Mynheir–an elegant writer who tells stories about the world of law enforcement that only an insider possibly could. The Night Watchman is a powerful, fast-moving tale with rich characters and some great twists."
–Joseph Finder, New York Times best-selling author of Power Play and Paranoia

"With stakeouts, fake-outs, and shoot-outs, The Night Watchman is a terrific crime story. Well written, well plotted, and extremely well done, Mynheir delivers a compulsively engrossing thriller that bears comparison with Michael Connelly and John Sanford."
–W. L. Dyson, best-selling author of The Shefford-Johnson Case series and Shepherd's Fall

"Riveting, revealing, rewarding–classic Mark Mynheir! In The Night Watchman, Mynheir has created an intricately woven thriller with a worthy mystery, gut-clenching suspense, and a compelling protagonist, Ray, who has lost everything, including hope and faith. Yet Ray dares to seek answers intentionally buried, and in doing so, he finds himself…and offers us insights into ourselves. Author to author, I say, 'Bravo!' Reader to reader, I say, 'Don't miss this book. It's loaded with insightful gems!'"
–Vicki Hinze, award-winning author of Kill Zone and Lady Justice

"The Night Watchman delivers high-stakes suspense, the perfect amount of police intrigue, and characters so real they walk off the page and into your soul. This is a story that will keep you awake all night and stay on your mind long after you've placed this novel on your keeper shelf."
–Amy Wallace, author of Enduring Justice

"Mynheir's real-life experience shines through in his creation of new hero Ray Quinn–a hard-edged, never-say-die detective with leathery wit, unable–or unwilling–to quite give up on life. The Night Watchman is an intense read you won't put down until the last page."
–Tosca Lee, Christy-nominated author of ForeWord Magazine Book of the Year Silver Award Winner Demon: A Memoir and Havah: The Story of Eve

"What a ride! In a novel rich in both plot and character, Mark Mynheir has given us a classic noir crime novel. Ray Quinn, the night watchman, may be broken in body, but his mind and heart refuse to quit. A must-read for mystery fans."
–Gayle Roper, author of Fatal Deduction
or
Not Currently Available for Direct Purchase