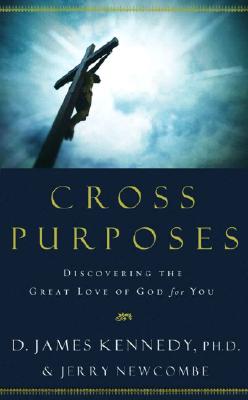 Cross Purposes: Discovering the Great Love of God for You (Hardcover)
Discovering the Great Love of God for You
Multnomah Books, 9781590529690, 191pp.
Publication Date: February 20, 2007
* Individual store prices may vary.
or
Not Currently Available for Direct Purchase
Description
A New View of the Old Rugged Cross

Let Cross Purposes spark a fresh revival of love in your heart for the One who cherished you enough to make the ultimate sacrifice.
Each of the 48 short devotional readings will help you approach the crucifixion of Jesus Christ from a different perspective. Together they ll take you on a moving journey to the very core of your faith to explore the truths that matter most in our lives:
.At the cross you ll find a clearer focus of God's purpose for your time on earth.
.At the cross you ll find Him opening your heart and mind to more fully receive His intimate love.
.At the cross you ll find Him sharing with you His victory over all evil and connecting you to His eternal plan for all humanity.

So let these pages bring you before the cross to explore its depths from the Lord's perspective so you ll never forget all He's done.
About the Author
Dr. D. James Kennedy is the senior minister of Coral Ridge Presbyterian Church in Ft. Lauderdale, Florida. He is a featured speaker on The Coral Ridge Hour (TV) and Truths that Transform (radio) programs that are syndicated throughout the U.S. and abroad. Dr. Kennedy is the founder and director of Evangelism Explosion, a lay witnessing program that is used in every nation on earth. He is happily married to Anne and has a daughter, Jennifer, a nurse educator. Jerry Newcombe is a senior producer for Coral Ridge Ministries television. He has produced or co-produced more than fifty documentaries, including several award-winning programs. He also hosts two weekly radio shows and has been a guest on many local and national talk shows. He is happily married and has a daughter and son.
Praise For Cross Purposes: Discovering the Great Love of God for You…
"Cross Purposes is the most important Christian book that has come out in years. It is an easy read and yet a profound study. There hasn't been a book of this caliber in this important area of understanding the Christian faith since C.S. Lewis' Mere Christianity. Cross Purposes helps us to understand and communicate the Christian faith in a clear, concise, and comprehensive way. Everyone should read this book."
- Ted Baehr, Chairman of Christian Film and Television Commission and publisher of Movie Guide®

"Hebrews 12:1-3 tells us that Jesus willingly went to the cross. Only His immeasurable love for us would move him toward such excruciating temporary pain to relieve our eternal suffering. In Cross Purposes, Dr. Kennedy and Jerry Newcombe beautifully remind us that the old rugged cross was transformed into an altar of sacrificial love for our sakes."
- Janet Parshall, National syndicated radio host

"Many devotional books are available in the Christian market, but this one is the finest I've ever read. It bursts out of the ordinary with sparkling illustrations, brilliant logic, fascinating citations, and solid theology. I plan to re-read it on an annual basis."
- Paul Maier, Professor of history, Western Michigan University, and bestselling author

"Read these pages and discover a fresh way the cross of Christ brings forth songs of praise, forgiveness for enemies, and hope for the despairing. You will remember what's so amazing about grace."
- Dr. Peter Lillback, President of Westminster Theological Seminary
Advertisement