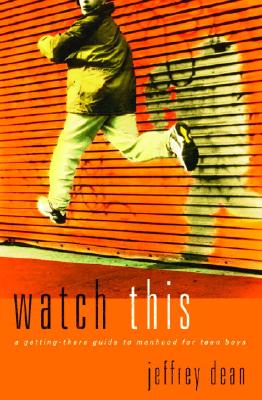 Watch This: A Getting-There Guide to Manhood for Teen Guys (Paperback)
A Getting-There Guide to Manhood for Teen Guys
Multnomah Books, 9781590529843, 212pp.
Publication Date: September 11, 2007
* Individual store prices may vary.
or
Not Currently Available for Direct Purchase
Description
Heard you were looking for cheat codes & walk throughs for getting it right. (Here ya go.)
Okay, so it's possible you re the first human being ever created just so you can muddle through life, add up to nothing, or crash and burn.
But probably not.
Probably in fact, definitely you re here for a very big, very good reason. And God wants you to live it huge.
That's the motivating message of Watch This, Jeffrey Dean's new book for teen guys. Jeffrey has spoken and listened to thousands of students just like you. He understands the pressures and fears you face. And now he's written a book that offers practical getting there advice for teens who want to experience everything God intends for their future. First, he helps you figure out who you are. Then he shows you from the Bible how to get where you want to go.
Oh, and not just get there. But have fun, bring glory to God. Because you re not here for nothing. You re here for something spectacular

Check out the companion book: This Is Me: a teen girl's guide to becoming the real you

About the Author
Jeffrey Dean is the founder of Jeffrey Dean Ministries. He has spoken to more than two million people in churches, schools, and prisons; and is the author of a multi-volume DVD-driven curriculum entitled Flood. Currently a speaker for Compassion International, he has partnered with ministries such as Youth for Christ, Fellowship of Christian Athletes, Josh McDowell Ministries, Teen Serve Ministry, and thousands of local Boys and Girls Clubs across the country. Jeffrey and his family live in Nashville, Tennessee.
Praise For Watch This: A Getting-There Guide to Manhood for Teen Guys…
"Jeffrey Dean has done a great job of identifying the things that matter most in life and conveying a message of hope for teans. His words are timeless and strong. You'll love what you read."
- Daniel S. Wolgemuth, President/CEO, Youth for Christ


"Jeffrey Dean has a way of zeroing in of today's youth culture. He knows teens and how to communicate the love of Jesus to them." - Josh McDowell
Advertisement