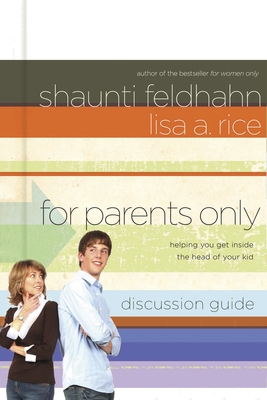 For Parents Only: Discussion Guide (Paperback)
Discussion Guide
Multnomah Books, 9781590529904, 75pp.
Publication Date: September 11, 2007
Description
A Handy Way to Find Out What's Really Going On in There
Drawing on the results of a ground-breaking nationwide survey of teenagers, "For Parents Only" revealed several key surprises about the inner lives of kids. Whether your child already is a teenager or you see those years barreling at you like an express train, this companion study guide will help you put that priceless knowledge to work in your home.
This invaluable resource perfect for group discussion or individual use includes:
thought-provoking questions to help you apply the "For Parents Only" findings to your child
true-to-life case studies that coach you in the skills of reading your children's minds (scary, we know ), understanding what motivates them, and connecting with them at a deeper level
practical, insightful discussion-starters and help for common parenting encounters and much more
As you gain a clearer understanding of what's going on in your children's lives and minds, you ll learn how to communicate more effectively and how to offer the guidance they need in a way they can receive.
About the Author
Shaunti Feldhahn is a nationally syndicated newspaper columnist, public speaker, and a best-selling author whose books include "For Women Only." After working on Wall Street and Capitol Hill, this mother of two now applies her analytical skills to illuminating those important, surprising truths that people really need to understand about each other.

Lisa A. Rice is the associate editor of "Christian Living "magazine, the mother/foster mom of three teenager girls, and one teenage boy, and an experienced screenwriter and producer. She s also the coauthor, with Shaunti, of "For Young Women Only "and "For Parents Only. ""
Advertisement