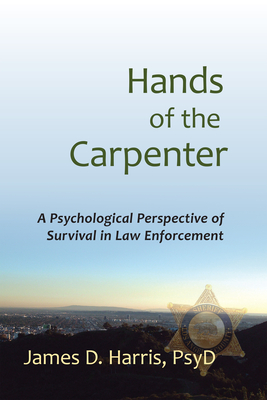 Hands of the Carpenter
A Psychological Perspective of Survival in Law Enforcement (Psychological Perspective of Survival Within Law Enforcement)
Paperback

* Individual store prices may vary.
Description
"Bob was shocked as he looked up and saw a wall of people completely covering the street between the east and west sidewalk. There were at least 60 people. They were shouting and walking away from him. They seemed to be shouting at someone farther down the street. He got out of the car and stood on the rocker panel of the doorframe to see over the crowd. He saw a single man walking down the white center line of the street carrying a six-foot-long piece of pipe in one hand and a double-bladed axe in the other."
Hands of the Carpenter is written as a novel about the real experiences of real cops. It is not a glamorized Hollywood story, but reflects the real world, in which people do not get up off the floor, wipe away fake blood, and resume their places for a second take. We live with our decisions, which is what survival is about. The world of policing and public service is filled with endless hours of tedium and monotony, punctuated periodically by moments of sheer terror.
WARNING: This book contains profanity. This is not intended to offend the reader but simply reflects the real lives of real people.
C O N T E N T S
Author's Note
Prologue
The Summer of 1953
Firestone Sheriff's Station, Summer 1976
Mr. Robinson
What Do You Know about Your Neighbor?
The Willowbrook Lip Lock
True Justice
Congratulations from the LAPD
A Filthy Alley, Where It's Safe
Bullets, Guilt, Failure, and Shame
The Aftermath
Sniffer the Dog
The Night that Wouldn't End
Happy New Year
No Secrets
Nothing Lasts Forever
Lynwood Station
"I'm gonna kill this fucker "
It's not Poodle Poop
I've Had Enough
Running Away
The Pizza
The "Bobby"
The Final Spin Cycle
The Axe Man Cometh
We Will Treat Her with Respect
A Visit to the "Shrinker"
Papaver somniferum
Darryl Jenkins
House Calls
Donuts, Coffee, and Epiphany
It Ended as Quickly as It Began
Epilogue
Glossary
Lantern Publishing & Media, 9781590560075, 402pp.
Publication Date: May 5, 2018
or
Not Currently Available for Direct Purchase