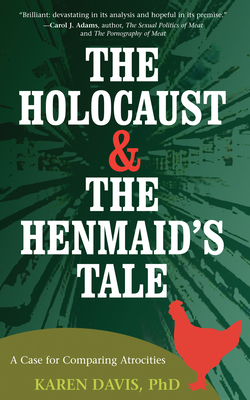 The Holocaust and the Henmaids Tale
A Case for Comparing Atrocities
Paperback

* Individual store prices may vary.
Description
"Brilliant, devastating in its analysis and hopeful in its premise." --Carol J. Adams, author, The Sexual Politics of Meat

"Compelling and convincing.... Not to think about, protest against, and learn from these twin atrocities--one completed in the middle of the last century, the other continuing every day--is to condone and support the fascist mentality that produced them. I thank Ms. Davis for writing this bold, brave book." --Charles Patterson, author, Eternal Treblinka


In a thoughtful and thought-provoking contribution to the study of animals and the Holocaust, Karen Davis makes the case that significant parallels can--and must--be drawn between the Holocaust and the institutionalized abuse of billions of animals in factory farms.

Carefully setting forth the conditions that must be met when one instance of oppression is used metaphorically to illuminate another, Davis demonstrates the value of such comparisons in exploring the invisibility of the oppressed, historical and hidden suffering, the idea that some groups were "made" to serve others through suffering and sacrificial death, and other concepts that reveal powerful connections between animal and human experience--as well as human traditions and tendencies of which we all should be aware.
Lantern Books, 9781590560914, 133pp.
Publication Date: May 1, 2005
or
Not Currently Available for Direct Purchase