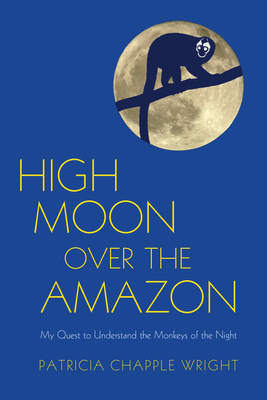 High Moon Over the Amazon
My Quest to Understand the Monkeys of the Night
Paperback

* Individual store prices may vary.
Description
Before primatologist Patricia Chapple Wright became the world's foremost expert on lemurs, she was enchanted by another primate--Aotus, the owl monkey, or "monkey of the night." But along her journey to discover the behavior of these unique nocturnal creatures, Wright finds more than she expected about family, human nature, and herself.

It all starts in a New York City pet shop when Wright and her husband buy an owl monkey whose lively and rambunctious ways soon lead the young couple to South America to acquire him a mate. But while Wright's monkey family is growing, her own begins to fall apart when her husband leaves her and her daughter. Undeterred by her lack of academic experience, Wright sets out as a single mother to study primate behavior in the wild, including a year at a research station in the remote jungles of Peru. There she encounters jaguars, poisonous snakes, army ants, and massive floods that threaten her and her daughter's lives, as well as moments of great clarity and beauty.

From New York City in the 1960s to the depths of the Amazon in the 1970s and 80s, this story of one woman's transformation from Brooklyn housewife to an accomplished scientist will captivate fans of Jane Goodall, Dian Fossey, and Birut Galdikas. High Moon over the Amazon is a thrilling memoir of adventure, inspiration, and of falling in love with a species not so unlike our own.


"This is a book you must read. Against all odds Patricia Wright succeeded in observing the previously unknown behavior of the mysterious and enchanting little owl monkey, the 'monkey of the night.' With the skill of a born story teller she describes hair raising adventures deep in the Amazon rainforest--and the problems of raising a child far from civilization. You will laugh and cry and marvel at the determination, courage, and scientific integrity of this amazing woman."--Jane Goodall, PhD, DBE, Founder of the Jane Goodall Institute & UN Messenger of Peace

"Heart-warming, honest, deeply inquisitive, and chock-a-block with the absolutely insane adventure known as field biology. As a conservationist, as a primatologist, no question about it, Patricia Wright is a heavy-weight contender. High Moon Over the Amazon proves her a great storyteller as well. This is a seriously fun, smart book." --Steven Kotler, New York Times bestselling author of Abundance: The Future Is Better Than You Think

"A naive young American woman with a pet monkey goes to the Amazon to find it a mate. This is the improbable beginning of an important scientific career--Pat Wright's. High Moon over the Amazon is a lively, exotic, inspirational tale about dreams that, against all odds, become reality."--David Quammen, author of Spillover and The Song of the Dodo
Lantern Publishing & Media, 9781590564806, 320pp.
Publication Date: October 1, 2014