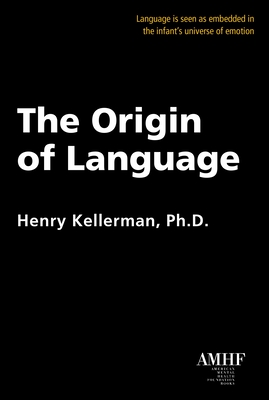 The Origin of Language
Paperback

* Individual store prices may vary.
Other Editions of This Title:
Paperback (6/17/2022)
Hardcover (6/17/2022)
Description
An evolutionary overview of the origin of language as an expression of primary emotions and behavioral prototypes.

In this book, language is seen as embedded in the infant's universe of emotion. Thus, language is seen as innate and is understood as representing prototype emotions implemented at birth, and connected to a brain-wired attachment-need. The overarching power-theme of it all—including primacy of emotion with respect to language, along with the importance of attachment-need—is identified and defined in detail, especially as it concerns the organizational power of a person's basic-wish. This is where the center, the core of the interaction between emotion, attachment, and language-origin, is revealed—that is, with respect to the relative success-index of the person's basic-wish. Such a basic-wish is what gives shape and meaning to the person's entire personality. Thus, the psycho/biological underpinning of The Origin of Language is that of an evolutionary view of the entire arena of the origin of language and its suffusion in the primary emotions and primary behavioral prototypes found at all phylogenetic levels.
American Mental Health Foundation, 9781590566107, 208pp.
Publication Date: June 5, 2021
About the Author
Spanning a 60-year career in the field of mental health, Dr. Henry Kellerman has held professional academic appointments in the psychology doctoral programs at several universities and clinical appointments at mental hospitals. In addition, he was the director of the psychology internship program at the Postgraduate Center for Mental Health in New York City, where he was also a training analyst and senior supervisor in the center's Psychoanalytic Institute. He holds fellow status in the American Psychological Association, the American Group Psychotherapy Association, and the Academy of Psychoanalysis, and is a Diplomate in Clinical Psychology and Psychoanalysis, of the American Board of Professional Psychology. Dr. Kellerman's books published by the American Mental Health Foundation include: Personality: How it Forms; Anatomy of Delusion; There's No Handle on My Door: Stories of Patients in Mental Hospitals; Psychotherapeutic Traction: Uncovering the Patient's Power-Theme and Basic-Wish<; Group Psychotherapy and Personality: A Theoretical Model; and Curing Psychological Symptoms.
or
Not Currently Available for Direct Purchase