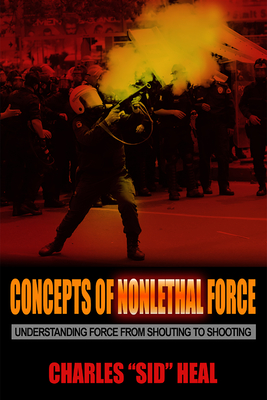 Concepts of Nonlethal Force
Understanding Force from Shouting to Shooting
Paperback

* Individual store prices may vary.
Description
A history of non-lethal means of crowd control, individual assailants, dangerous situations, and a fascinating examination of the tools available to minimize lethal encounters.

For fifty years, both as a combat veteran, police officer, and trainer for law enforcement and the military, Charles "Sid" Heal has devoted his career to limiting the occasions for catastrophic loss of life and to defusing potentially explosive, life-endangering encounters. He has written on how to de-escalate tense stand-offs, from confrontations with individuals to potential mass disorder (Sound Doctrine: A Tactical Primer); how to formulate strategies, tactics, mission-planning, and decision-making under pressure (Field Command); and how to examine floor plans of houses to enable special forces to end hostage scenarios and home sieges with minimal loss of life (An Illustrated Guide to Tactical Diagramming)

In Concepts of Nonlethal Force, Heal explores the ever-growing array of nonlethal options and implements that promise to restore order to out-of-control situations, such as riots, or to tackle assailants in a way that lessens the risk of somebody being killed—whether it's the officer or the suspect. Heal also examines the history of non-lethal interventions, and the many ambiguities and difficulties associated with employing these items so as to minimize casualties, lower the likelihood of harm to innocent bystanders, and reduce property and collateral damage.
Lantern Publishing & Media, 9781590566350, 190pp.
Publication Date: October 20, 2020
About the Author
Charles "Sid" Heal is a retired Commander from the Los Angeles Sheriff's Department with nearly 33 years of service in law enforcement, nearly half of which has been spent in units charged with handling law enforcement special and emergency operations. Sid has earned three college degrees and is a graduate of the California Peace Officer's Standards and Training, Center for Leadership Development, Command College, and the FBI National Academy. He is the author of Sound Doctrine: A Tactical Primer, and An Illustrated Guide to Tactical Diagramming, as well as more than 120 articles on law enforcement issues. He has appeared on numerous television newscasts and documentaries, and been quoted in many periodicals and newspapers. Additionally, he has been a featured speaker at numerous conferences in Canada, Germany, England, Scotland, Ireland, Israel, Brazil and Argentina, as well as throughout the United States.