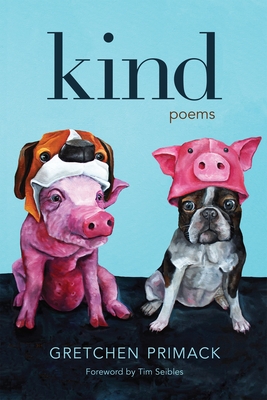 Kind
Poems
Hardcover

* Individual store prices may vary.
Description
A collection of poems and images that reflect our complex relationship with other-than-human animals

Kind is the kind of poetry book that makes you think differently about our world and the beings that inhabit it. Primack explores all facets of our lives with other beings—the beauty, the tragedy, and the absurdity that surrounds her existence. Kind cuts to one's emotional core to make us think and feel.

"If it is true that one knows oneself best by observing how one treats others then this book of poems by Gretchen Primack is essential reading. Read these poems for the truth they tell about our relationship to and treatment of the creatures we take to be our property; read this book and ponder its many questions, for example 'Who are the beasts?' and 'What can I do?'"—Kazim Ali

"How often does one get starstruck by a poet? When I read Gretchen Primack's animal poems, I was starstruck instantly. How could someone crystallize my own feelings about animals and humanity so beautifully, so powerfully, and so poignantly? Primack seems only capable of writing poetry so damn good that you will find yourself wanting to read it aloud to everyone you know who shares your compassion for animals...and to everyone you know who doesn't."—Marisa Miller Wolfson

"Gretchen Primack knows that animals 'cannot forget hell for even a day, and so [she] cannot either.' She is infused with an abnormal amount of empathy, which fills her heart with kindness, awe, and hope. She wants to live 'somewhere else, somewhere kind,' so she spends her time shifting into that place where every being matters, and she takes us with her."—Sharon Gannon
Lantern Publishing & Media, 9781590566398, 98pp.
Publication Date: March 2, 2021
About the Author
Gretchen Primack is a poet and educator living in New York's Hudson Valley. She has taught and/or administrated with prison education programs (mostly college) since 2005.
She's the author of two poetry collections (apart from Kind): Visiting Days (Willow Books) and Doris' Red Spaces (Mayapple Press), as well as a chapbook, The Slow Creaking of Planets (Finishing Line 2007). She co-wrote The Lucky Ones: My Passionate Fight for Farm Animals with Woodstock Farm Animal Sanctuary co-founder Jenny Brown (Penguin Avery 2012). Her poetry publication credits include The Paris Review, Prairie Schooner, Ploughshares, FIELD, Poet Lore, The Massachusetts Review, The Antioch Review, New Orleans Review, Rhino, Tampa Review, and many others journals and anthologies. Gretchen is a passionate advocate for the rights and welfare of non-human animals and lives with several of them, along with a beloved human named Gus.