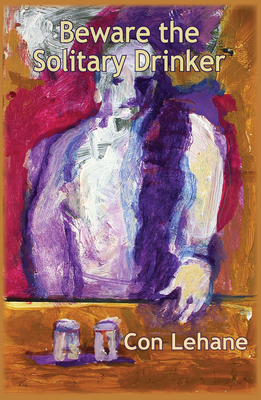 Beware the Solitary Drinker (Hardcover)
Poisoned Pen Press, 9781590580165, 269pp.
Publication Date: September 15, 2002
Other Editions of This Title:
Paperback (5/1/2008)
* Individual store prices may vary.
Description
Worlds within worlds-enter into a very special
culture with unwritten rules...

Brian McNulty, veteran bartender at Oscar's on the Upper West Side, respects his customer's privacy. And their space. But when one--a tarnished but innocent young woman seduced by New York's bright lights and glitter--is murdered, and another battered innocent charged with killing her, he reluctantly begins his own investigation.
Brian's enthusiasm for the chase is given a boost with the arrival of the dead girl's sister, a young business woman from Massachusetts, equally bent on uncovering the killer. She's put off by his jaded attitude and offbeat lifestyle, but comes to rely upon his familiarity with the city's darker underside. Brian, in turn, enlists the aid of a cadre of neighborhood cronies. The suspects: all of the regulars at Oscar's, each with more to hide than the next.
A leftist politcally, a dedicated union man, Brian learns that when you dig into people's lives, rich or poor, you find things kept hidden for good reason. By stirring up these ghosts, you change the shape of the landscape and put your friends in harm's way.
This special first novel comes wrapped in art work created for it by famed artist Fritz Scholder.
About the Author
Cornelius Lehane is a writer and editor for the United States' largest teachers union, the National Education Association. In other incarnations, he's been a college professor, a union organizer, and, yes, for more than a decade, a bartender. After spending most of his life in and around New York City, he now lives in a close-in suburb of Washington, DC with his wife, two sons, and an assortment of pets. He holds a Master of Fine Arts degree in fiction writing from Columbia University School of the Arts. A slightly different version of Beware the Solitary Drinker was published in France by Rivages/Noir this past spring.
Praise For Beware the Solitary Drinker…
"Brian's bar-focused outlook (the author was a former bartender), the bar "family," and an abundance of booze, drugs, and sex make for colorful reading."  -- Library Journal
" Set in 1983 but timeless in its depiction of men and women struggling to cope with whatever demons beset them, Lehane's assured debut merits a warm welcome from readers who prize originality and insight."    -- Publisher's Weekly
"Lehane's narrative vividly evokes a melancholy city in decline, and a sullen man who, when forced to act, rises above the alcoholic despair that surrounds him."  -- Alfred Hitchcock's Mystery Magazine
"Any New Yorker will realize that the story line is an actual portrayal of life in the Big Apple (at least the Manhattan borough). BEWARE THE SOLITARY DRINKER has much to recommend it."  -- Midwestern Book Review
or
Not Currently Available for Direct Purchase