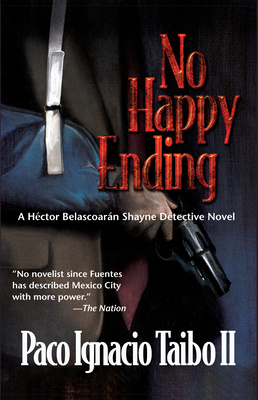 No Happy Ending: A Hector Belascoaran Shayne Detective Mystery (Paperback)
A Hector Belascoaran Shayne Detective Mystery
Poisoned Pen Press, 9781590580387, 171pp.
Publication Date: June 30, 2003
Description
The third English language case for Mexico City independent detective Hector Belascoaran Shayne, No Happy Ending, is Paco Ignacio Taibo II at his subversive, darkly comic best. First, Hector discovers the body of a dead actor, dressed like a Roman in full breastplate and regalia, propped up on the toilet in his office. Shortly thereafter, he receives a threatening letter and a snapshot of another murdered corpse. As Hector investigates the killings, he discovers that both share a connection to a dead stuntman named Zorak who apparently perished while training a government-backed paramilitary group. Once again, the one-eyed anarchist detective finds himself up against the very institutions which persecute the downtrodden and oppress the masses. In typical Taibo fashion, Hector appears destined to lose: the ending to this remarkable absurdist tale shows his bullet-ridden body lying face down in the gutter during a rainstorm.
Advertisement