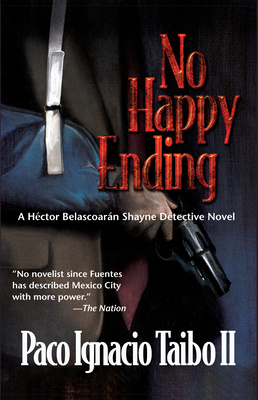 No Happy Ending (Paperback)
A Hector Belascoaran Shayne Detective Mystery (Hector Belascoaran Shayne Detective Novels)
Poisoned Pen Press, 9781590580387, 171pp.
Publication Date: June 30, 2003
* Individual store prices may vary.
Description
Praise for No Happy Ending... "The real enchantment of Mr. Taibo's storytelling art lies in the 'wild and melancholy' tango of life he sees everywhere." -New York Times review of Some Clouds "This existential tale shows off Taibo's ruminative and melancholy detective at his rawest and most surprising." -Publishers Weekly First, Dectective H ctor Belascoaran Shayne discovers the body of a dead actor, dressed like a Roman in full breastplate and regalia, and propped up on the toilet in his office. Shortly thereafter, he receives a threatening letter and a snapshot of another murdered corpse. As H ctor investigates the killings, he discovers that both share a connection to a dead stuntman named Zorak who apparently perished while training a government-backed paramilitary group. Once again, the one-eyed anarchist detective finds himself up against the very institutions that persecute the downtrodden and oppress the masses. In typical Taibo fashion, H ctor appears destined to lose.... Paco Ignacio Taibo II has lived in Mexico City since 1958 when his family fled from Spain to escape the fascist dictatorship of Francisco Franco. Considered the founder of the neopolitical genre in Latin America, his novels featuring Mexican private investigator H ctor Belascoar n Shayne are among his most popular works.
or
Not Currently Available for Direct Purchase