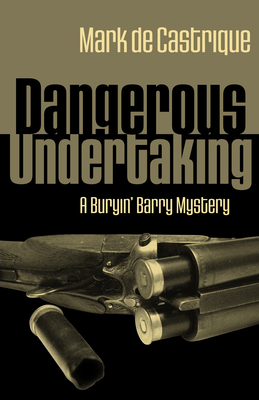 Dangerous Undertaking (Buryin' Barry #1)
Paperback

* Individual store prices may vary.
Other Editions of This Title:
Paperback, Large Print (6/30/2003)
Description
Barry Clayton has a job he doesn't want. When his father became stricken with Alzheimer's, Barry left the Charlotte police force for the small mountain community of Gainesboro, North Carolina, where his family runs the local funeral home. Buryin' Barry reluctantly assumed the mantle of town undertaker, trying to fit his life into this somber profession.
Almost at once it turns deadly. At the graveside service for an elderly woman, a grieving grandson strides in clad like Clint Eastwood in a duster, rips out a shotgun, and murders his family. Then the shooter turns the weapon on Barry. Take a message to my grandmother, Dallas Willard shouts. Tell her they tried to take the land. Tell her I love her. The blast hits Barry in the shoulder.
Barry is not cut from the same black cloth as his father, and his irreverent wit and independence have already won him the friendship of the county sheriff, one-eyed war hero Tommy Lee Wadkins. Besides, Barry's a police pro. Trusting his wounds to the hands of local surgeon Susan Miller, Barry begins a search for both the killer and the reason for his crime. It isn't long before a second shooting occurs - but when Dallas Willard's body is discovered at the bottom of a quarry pond, it becomes clear that Gainesboro is caught in the grip of something more than a deadly family quarrel...
Praise For Dangerous Undertaking (Buryin' Barry #1)…
"I really enjoyed this book. Mark de Castrique writes with an authentic insider's voice. He clearly knows and loves these mountains and he respects the people who live there." --Margaret Maron
 "A well-written debut featuring an engaging buddy team and a picturesque setting." —Booklist
"Adept at both the grizzly and the graceful, de Castrique has produced a marvelous mystery you won't want to put down." –Publishers Weekly
"DeCastrique keeps the story moving at a brisk pace as he fills his story with engaging characters and local color." —Orlando Sentinel
Poisoned Pen Press, 9781590582695, 223pp.
Publication Date: February 1, 2006
About the Author
Mark de Castrique grew up in the mountains of western North Carolina where many of his novels are set. He's a veteran of the television and film production industry, has served as an adjunct professor at the University of North Carolina at Charlotte teaching The American Mystery, and he's a frequent speaker and workshop leader. He and his wife, Linda, live in Charlotte, North Carolina. www.markdecastrique.com