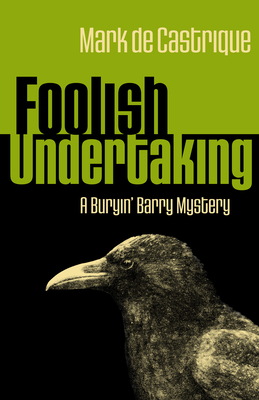 Foolish Undertaking (Buryin' Barry #3)
Paperback

* Individual store prices may vary.
Other Editions of This Title:
Paperback, Large Print (3/1/2006)
Description
The night before a funeral that will thrust the mountain town of Gainesboro, North Carolina, into the national spotlight, the body is stolen from the embalming room and funeral director Barry Clayton is knocked unconscious. Ouch. How will Clayton & Clayton deal with the relatives of Y'Grok Eban, the Montagnard hero who aided US troops during the Vietnam War, or the U.S. Senator, three-star general, and famous Hollywood star en route to Y'Grok's service? Barry's friend, Sheriff Tommy Lee Wadkins has a very personal interest in the missing Y'Grok - the Montagnard had saved his life. So does the Boston detective who also owes his life to Y'Grok and received a death-bed summons from the cancer-stricken old man: Raven has come home. The three men pledge to crack Y'Grok's code, recover not just the body but a piece of a long-buried past, and deal with new death and betrayal. Is it a heroic or a foolish undertaking?
Praise For Foolish Undertaking (Buryin' Barry #3)…
There have been undertakers who solved crimes before Mark de Castrique introduced us to Barry Clayton, but they were all a bit jaunty for my taste. Clayton is a former Charlotte police officer who returned to his mountain hometown to take over the family funeral business when his father's Alzheimer's disease derailed him. Clayton isn't pompous or ponderous, but he knows that his work is important to the people involved, a calling to be carried out with respect.
"Foolish Undertaking," de Castrique's third mystery about Clayton, is a gripping, sharply written, complex tale about the Montagnards--Vietnamese tribesmen whose ferocious courage and loyalty saved the lives of many U.S. troops during the war. When a beloved Montagnard leader who lived in the area dies of cancer, a large funeral is planned, with celebrity mourners coming from across the country. But as Clayton is working on the remains, he is attacked and the body stolen.
The subtle ways de Castrique captures the physical and human geography of a unique part of the American South are as important and as impressive as his narrative skills. -- Dick Adler, Chicago Tribune, 3/19/2006.
Poisoned Pen Press, 9781590583517, 252pp.
Publication Date: May 1, 2007
About the Author
Mark de Castrique grew up in the mountains of western North Carolina where many of his novels are set. He's a veteran of the television and film production industry, has served as an adjunct professor at the University of North Carolina at Charlotte teaching The American Mystery, and he's a frequent speaker and workshop leader. He and his wife, Linda, live in Charlotte, North Carolina. www.markdecastrique.com
or
Not Currently Available for Direct Purchase