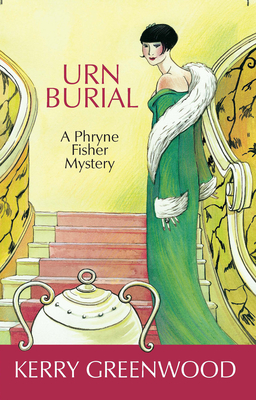 Urn Burial (Paperback)
A Phryne Fisher Mystery (Phryne Fisher Mysteries)
Poisoned Pen Press, 9781590583685, 187pp.
Publication Date: April 1, 2007
Other Editions of This Title:
Paperback, Large Print (12/1/2005)
MP3 CD (9/2/2014)
Pre-Recorded Audio Player (4/1/2012)
Compact Disc (8/6/2012)
MP3 CD (8/6/2012)
MP3 CD (8/6/2012)
Compact Disc (8/6/2012)
* Individual store prices may vary.
Description
"Another Down Under adventure that's definitely a cut above." --Booklist
The redoubtable Phryne Fisher is holidaying at Cave House, a Gothic mansion in the heart of Australia's Victorian mountain country. But the peaceful surroundings mask danger. Her host is receiving death threats, lethal traps are set without explanation, and the parlour maid is found strangled to death. What with the reappearance of mysterious funerary urns, a pair of young lovers, an extremely eccentric swagman, an angry outcast heir, and the luscious Lin Chung, Phryne's attention has definitely been caught. Her search for answers takes her deep into the dungeons of the house and into the limestone Buchan caves. What will she find this time?
About the Author
Kerry Greenwood was born in the Melbourne suburb of Footscray and after wandering far and wide, she returned to live there. She has degrees in English and Law from Melbourne University and was admitted to the legal profession on the 1st April 1982, a day which she finds both soothing and significant. Kerry has written three series, a number of plays, including The Troubadours with Stephen D'Arcy, is an award-winning children's writer and has edited and contributed to several anthologies. The Phryne Fisher series (pronounced Fry-knee, to rhyme with briny) began in 1989 with Cocaine Blues which was a great success. Kerry has written twenty books in this series with no sign yet of Miss Fisher hanging up her pearl-handled pistol. Kerry says that as long as people want to read them, she can keep writing them. In 2003 Kerry won the Lifetime Achievement Award from the Australian Association.