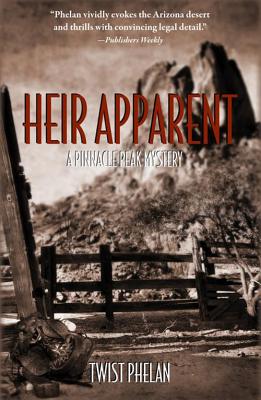 Heir Apparent (Paperback)
A Pinnacle Peak Mystery
Poisoned Pen Press, 9781590584330, 226pp.
Publication Date: May 1, 2007
* Individual store prices may vary.
Description
A dead partner, a murdered client...it's more than attorney Joe McGuinness bargained for when he signed on at one of Pinnacle Peak, Arizona's most prestigious law firms. The ink on Joe's bar license is barely dry when the death of his firm's senior partner puts the young lawyer's job in jeopardy. Soon even more is at stake. While on a date with Mia Ortiz, personal assistant to one of the firm's wealthiest clients, Joe walks into a grisly murder scene. Mia's boss, Cordelia Barrett, and her son lie sprawled in a pool of blood. Joe knows Cordelia has recently changed her will, turning off the flow of money to her hotheaded son. But the police don't agree with Joe's theory of murder/suicide and arrest Mia for murder. Meanwhile, fellow lawyer Jerry Dan Kovacs is determined to prove the death of the firm's senior partner wasn't an accident. While Joe works fervently to free Mia, another body turns up and he must unravel a web of secrets to discover who is using murder to claim the rights of heir apparent.
or
Not Currently Available for Direct Purchase