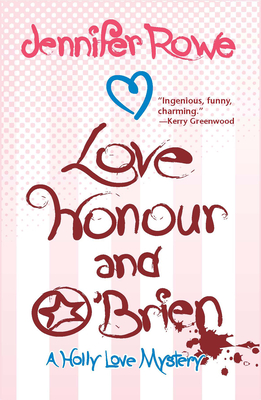 Love, Honour, and O'Brien: A Holly Love Mystery (Hardcover)
A Holly Love Mystery
Poisoned Pen Press, 9781590585436, 287pp.
Publication Date: January 3, 2012
Description
She stared into the speckled mirror, wondering how she had come to this. How could she, Holly Love, apple of her parents eye, competent manipulator of invoices in Gorgon Office Supplies, have ended up alone and starving in a dead man's flat? How indeed? Most reluctant heroines would throw in the towel at this point. But Holly Love is made of sterner stuff. She's sworn to track down the cheating swine who ripped her life apart, and make him pay. But as she tries to keep her head in the face of a bizarre mystery, a gloomy old house, a hearse-driving Elvis impersonator and a gang of vengeful thugs not to mention a garrulous and possibly possessed parrot Holly is forced to come to terms with a great truth. However bad things seem, they can always get worse.
About the Author
Jennifer Rowe is a devotee of the murder mystery genre; she enjoys reading these 'extended brainteasers' as much as writing them. A multi-award winning writer, Jennifer is the author of the Verity Birdwood and Tessa Vance mysteries, and creator of the television series Murder Call. Now she brings us the adventures of a new and reluctant/accidental P.I., Holly Love"
Praise For Love, Honour, and O'Brien: A Holly Love Mystery…
"The prolific Australian author (The Makeover Murders, 1993, etc.) offers the hilarious first in a new series that mixes humor with mystery."—Kirkus Reviews
"This action-packed tale will take readers to Australia's beautiful Blue Mountains, where they will meet some truly quirky characters: a psychic, an Elvis impersonator who drives a hearse, a strange gang of gloomy thugs, and a parrot who may be possessed. The humor will help them realize that things can always get worse. Readers looking for a nice mix of mystery and comedy will love this one." —Booklist
"Ingenious, funny, with a cast of charming and eccentric characters." —Kerry Greenwood, author of the Phryne Fisher and Corinna Chapman series
Advertisement