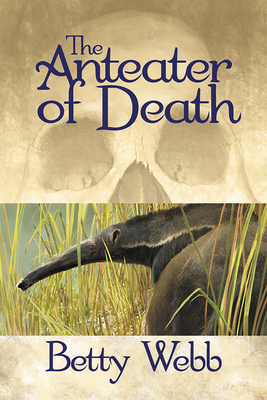 The Anteater of Death: A Gunn Zoo Mystery (Hardcover)
A Gunn Zoo Mystery
Poisoned Pen Press, 9781590585603, 261pp.
Publication Date: November 15, 2008
* Individual store prices may vary.
or
Not Currently Available for Direct Purchase
Description
If Lucy, the pregnant Giant Anteater from Belize, didn't kill the man found dead in her enclosure at California's Gunn Zoo, who did? Zookeeper Teddy Bentley must find the real murderer before her furry friend is shipped off to another zoo in disgrace.
Then another human bites the dust, the monkeys riot, and the wolves go nuts. Things get worse when the snooty folks at Gunn Landing Harbor attempt to evict Teddy from the Merilee, her beloved houseboat.
That's just the beginning. Her father, on the lam from the Feds for embezzling millions, gets targeted by a local gangster; and Caro, Teddy's socialite and former beauty queen mother, who loathes Teddy's dangerous job, starts introducing her to eligible bachelors. Then Teddy herself becomes a target for murder.
About the Author
Betty Webb is the author of the acclaimed Lena Jones mystery series, which includes "Desert Cut" and "Desert Wives." A former Californian who once lived on a boat, like the zookeeper protagonist "of The Anteater of Death," Betty now lives in landlocked Arizona, where she volunteers at the Phoenix Zoo. She also teaches Creative Writing at Phoenix College and is a member of the National Association of Press Women, Mystery Writers of America, and the Authors Guild.
Praise For The Anteater of Death: A Gunn Zoo Mystery…
"Webb, author of Desert Cut and four other Lena Jones mysteries, launches a new series featuring a warm and unconventional heroine, zookeeper Theodora 'Teddy' Bentley. Teddy is dismayed to learn that a pregnant anteater in her care, Lucy, appears to have mauled to death a prominent patron of California's Gunn Landing Zoo, Grayson Harrill. When it turns out that someone shot Harrill first, Teddy turns sleuth to discover who framed her beloved Lucy. The colorful supporting cast includes Teddy's beauty queen mother, who makes her daughter call her Caro; Harrill's wife and descendant of the zoo's founder; and the zoo's controversial director. Webb deftly weaves zoological lore into the fast-moving plot... The book's human perspective conveys everything we need to know about Lucy, her habitat and her behavior." -- Publishers Weekly
"Webb (Desert Cut, 2008, etc.) kicks off her new series with a bright heroine and an appealingly offbeat setting: a firm foundation later episodes can build on."  -- Kirkus Reviews

"Webb, author of the well-written Lena Jones PI series, not only presents a clear picture of what it is like to work in a zoo but also introduces an engaging new protagonist who will appeal to mystery buffs who enjoy light animal mysteries." -- Library Journal
"Webb's new series combines a good puzzle with animal lore, a behind-the-scenes look at zoo operations, and plenty of humor." -- Booklist
Advertisement