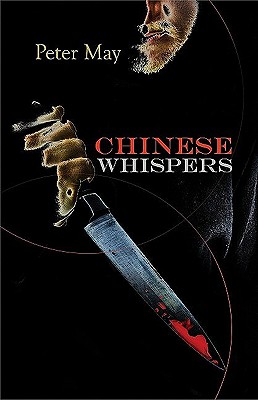 Chinese Whispers (Hardcover)
A China Thriller
Poisoned Pen Press, 9781590586082, 250pp.
Publication Date: October 1, 2009
* Individual store prices may vary.
Description
His victims are young, beautiful and viciously mutilated. He calls himself the Beijing Ripper. The media and terror-sticken public are demanding the arrest of the Beijing Ripper and Li Yan, the head of Beijing's serious crime squad, has been put in the spotlight. American pathologist Margaret Campbell is invited to perform an autopsy on one of the victims and her results send shockwaves through the investigation. Then Li begins receiving personal letters from the killer, and his life and career start falling apart. The need to uncover the Ripper's identity becomes paramount if he is to save himself and his family. Peter May's terrifying new China thriller pits Li Yan and Margaret Campbell against an unscrupulous foe who could prove to be their deadliest enemy yet.
About the Author
Peter May won the Scottish Young Journalist of the Year Award at the age of 21, and had his first novel published at 26. He then left journalism and became one of Scotland's most successful and prolific television dramatists. Returning now to novels, his outstanding China Thrillers series of books are winning critical acclaim. To research the series, Peter May makes annual trips to China. As a mark of their respect for his work, The Chinese Crime Writers' Association made him an honorary member of their Beijing Chapter. He is the only Westerner to receive such an honour. Peter May is married to writer Janice Hally and lives in France.
Praise For Chinese Whispers: A China Thriller…
Publishers Weekly (06/29/2009):
May's fine sixth entry in his contemporary China series (The Firemaker, etc.) offers some fresh variations on the catch-the-serial-killer within an autocratic society plot. A fiend is copying Jack the Ripper's m.o. almost exactlysavagely butchering prostitutes, sending body parts in the mail and boasting of his atrocities in letters. The authorities' efforts to keep the pattern from the public are shattered when Lynn Pan, a Chinese-American, falls victim to the Beijing Ripper. Pan had just shown a new law enforcement tool to Beijing CID section chief Li Yan and his superiors, a brain scan that would make traditional lie detectors obsolete. Li suspects Pan discovered something during the demonstration that led to her murder. As Li pursues that theory, an unknown enemy in a position of power threatens his career and his family. May nicely handles the business of using mental fingerprints to identify the criminal. "(Oct.)" Copyright 2009 Reed Business Information.
"Employing a tightly woven plot and detailing interpersonal relationships that reveal more of his protagonists' background, May, the only Western member of the Chinese Crime Writers' Association, has outdone himself in this sixth entry (after Snakehead ) in his China series. This is sure to please readers who like watching their heroes face life-threatening situations in far-off locales." -- Library Journal starred review of Chinese Whispers
"This is a strong entry in an excellent series and should be suggested to readers who like either police thrillers or international mysteries..." --Booklist of Chinese Whispers
Kirkus Review - Adult (07/01/2009):
A Jack the Ripper wannabe stalks Beijing. Li Yan, head of the Criminal Investigation Division of the Beijing Municipal Police, is appalled when four prostitutes are murdered in a manner exactly replicating that of the Ripper 120 years ago. The mastermind even sends him precisely worded taunts indicating his next venture. Then Lynn Pann, the professor running a supposedly foolproof lie-detection technique called the Mermer program, is murdered in a manner indicating even more similarities to the Ripper's work. Is a copycat killer on the loose, or is the perp one of the volunteer subjects Pann examined with Mermer? Further complicating matters, Li's questioning of several subjects, all higher-ups in the Beijing political hierarchy, has explosive results. His American lover Margaret's attempt to renew her visa is denied. Their son is abducted. Li's sister is jailed on charges of cocaine trafficking. Li himself is ousted from his position in the Municipal Police. Equally troubling, a polygraph expert trying to decipher Pann's notes takes a header out his apartment window. Working unofficially, Li concentrates on inconsistencies revealed by Mermer in order to zero in on the most likely suspects. Margaret will be seriously endangered before a final knife thrust ends the search. The repeat tour of the Ripper's dissections is just plain grisly. But the interesting locale and May's ongoing study of the difficulties in conducting Chinese-American romances (The Runner, 2003, etc.) are likely to interest a broader range of readers.
(COPYRIGHT (2009) KIRKUS REVIEWS/NIELSEN BUSINESS MEDIA, INC. ALL RIGHTS RESERVED.)
or
Not Currently Available for Direct Purchase