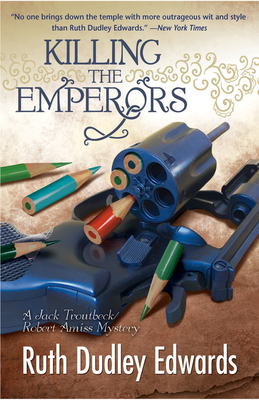 Killing the Emperors (Hardcover)
Poisoned Pen Press, 9781590586389, 196pp.
Publication Date: October 2, 2012
Description
Lady (Jack) Troutbeck is missing. So too, is Sir Henry Fortune, celebrity curator, and his partner in love and money, louche art dealer Jason Pringle. Panic begins in the London art world when no one can locate Anastasia Holliday, sensational abject artist, Jake Thorogood, the critic who catapulted her into stardom, or Dr Hortense Wilde, notorious for having influenced generations of art students to despise craftsmanship.
Spotting that the victims common link is that their careers blossomed when they whole-heartedly embraced newly-fashionable conceptual art, there is media hysteria. Are they hostages? If so why? Ransom? Revenge?
What bewilders the police and her friends is that Baroness Troutbeck is a standard-bearer of conservative values in education and art who recently publicly described admirers of conceptual art as knaves and fools. Can Troutbeck's friends rescue her before her own worst fantasies are turned into reality?
About the Author
Since 1993 Ruth has written seriously and/or frivolously for almost every national newspaper in the Republic of Ireland and the United Kingdom. She has been shortlisted by the Crime Writers Association for the John Creasey Award for the best first novel and twice for the Last Laugh Award for the funniest crime novel of the year.
Advertisement