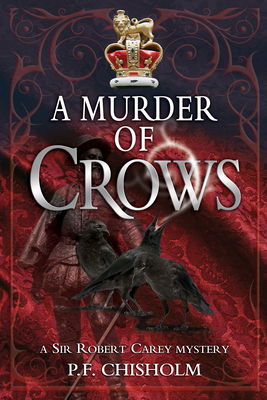 A Murder of Crows: A Sir Robert Carey Mystery (Hardcover)
A Sir Robert Carey Mystery
Poisoned Pen Press, 9781590586570, 258pp.
Publication Date: June 1, 2010
Description
It's September 1592, and Sergeant Dodd is still in London with dashing courtier Sir Robert Carey. Carey urgently needs to get back to Carlisle where he is the Deputy Warden; the raiding season is about to begin. However, his powerful father, Henry, Lord Hunsdon, wants him to solve the mystery of a badly decomposed corpse that has washed up from the Thames on Her Majesty's privy steps.
Meanwhile, although he hates London, Sergeant Dodd has decided not to go north until he has taken revenge for his mistreatment by the Queen's Vice Chamberlain, Thomas Heneage. Carey's father wants him to sue, but none of the lawyers in London will take the brief against such a dangerous courtier. Soon a mysterious young lawyer with a pock-marked face eagerly offers to help Dodd. And then, just as Carey is resigning himself to the delay, the one person he really does not want to see again arrives in London to stir up everything.
About the Author
Patricia Finney has been writing since she was seven, writing novels and screenplays since the age of fifteen and a published author since she was 18. She has a degree in Modern History from Oxford University where she also met her late husband, American lawyer Christopher Perry. Since then, she has had a chequered career in which she has written a weekly column for a Fleet Street paper, edited a medical journal, won the top BBC Radio Drama Prize for her play A ROOM FULL OF MIRRORS, sold advertising, been a dreadful secretary, and most recently opened, run and sold a coffee shop called Words. She also lived in Spain for two and a half years. She has published fifteen novels, including three Elizabethan thrillers, two childrens books told by a dog (I, Jack series), the first books of the Lady Grace series for children and, of course, the Robert Carey series of crime novels set in Elizabethan England.At the moment she is researching the sixth Carey story, writing another Elizabethan crime novel, rewriting scripts and having a whale of a time broadcasting Word Warriors, a literary show on her local community radio station (www.thesourcefm.co.uk). Patricia Finney has been a published writer since before her first novel, A SHADOW OF GULLS, came out when she was 18 and won the David Higham Award. She studied History at Wadham College, Oxford and acquired an American husband who became an English barrister (litigation specialist). After a variety of jobs including editing a medical journal and writing a column for the London Standard, she did freelance journalism and wrote FIREDRAKE S EYE, the first of her Elizabethan spy trilogy. She had three children and moved with her husband to Cornwall in 1993. She began the Sir Robert Carey adventures at about the same time, but a long gap between A PLAGUE OF ANGELS and A MURDER OF CROWS was caused by a variety of distractions including children, dogs, cats, rodents, money, other books including UNICORN S BLOOD and GLORIANA S TORCH, and the illness and death from cancer in 2002 of her husband. Since then she has entertained herself by writing more childrens books, a contemporary novel and many spec screenplays, by living in Spain for two and a half years and by opening and closing a little coffee shop in Penryn, Cornwall.She is now re-inspired and hard at work on another crime novel set in Elizabethan London while planning the next installment of Sir Robert and Sergeant Dodd s adventures at the Queen s court on progress in Oxford."
Praise For A Murder of Crows: A Sir Robert Carey Mystery…

"This fast-moving tale becomes a winner….A fun read for fans of Elizabethan mysteries."    – Library Journal
"Sir Robert Carey is back at last in this fifth novel in PF Chisholm's Sir Robert Carey series, with the redoubtable Sergeant Henry Dodd matching wits with Sir Robert's mother, the darling and deadly Lady Hunsdon.  Well worth the wait."   – Dana Stabenow, Edgar-winning author of the Kate Shugak novels
 "The renegade English professor in me let out a howl of delight." – Joanne Dobson,author of the Karen Pelletier mysteries    "Feuding clans, political unrest, rowdy humor and exploits, unwise love affairs, and the plight of the poor all play a part in this skillful re-creation of a period rich in action and opportunity. A fine addition to the series."  --
Library Journal
of
A Surfeit of Guns
  "Chisholm's brilliant depiction of 16th-century English life, high and low, domestic and public, is neatly held together by his believable and engaging protagonist."  –
Publishers Weekly
of
A Season of Knives
Advertisement