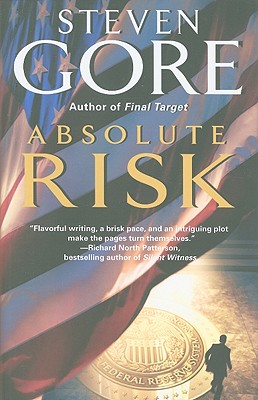 Absolute Risk (Hardcover)
A Graham Gage Mystery
Poisoned Pen Press, 9781590587713, 355pp.
Publication Date: September 7, 2010
* Individual store prices may vary.
or
Not Currently Available for Direct Purchase
Description
An FBI Agent, disgraced and dead. A Muslim economist, deported from the US and tortured. The world's largest hedge fund, secreted off-shore. A Federal Reserve Chairman who suspects a dangerous connection among them. And private investigator Graham Gage, to whom he turns to learn the truth. From New York to Boston to Marseilles to Washington DC, Gage races to expose a economic terrorism conspiracy against the United States, his heart burdened and his work complicated by an uprising in western China in which his wife is caught, by an indecisive Acting US President under the influence of a politically powerful, but increasingly delusional evangelical minister, by ruthless and double-dealing Chinese business leaders, and by a PLA general gripping the largest army in the world with one hand, and Gage's wife in the other. Underlying each plot turn are questions about the vulnerability of the debt-burdened US economy, the use of mathematical financial models, market manipulation and insider trading, the use of rendition and torture, US corporate complicity in foreign corruption, and America's commitment to its own values.
About the Author
Steven Gore spent his career as a private investigator in the San Francisco Bay Area. His international thrillers draw on his investigations throughout North America, Europe, and Asia. He has investigated alien smuggling in India, arms trafficking and murder in China, securities fraud and racketeering in Western Europe, political corruption in Central Europe, fraud in Mexico, triads throughout the Pacific Rim, and money laundering from Arlington to Zurich. He has negotiated with a tribal jirga on the Pakistan-Afghanistan frontier, met with drug syndicates in the Golden Triangle, tracked down an organized crime figure in Italy, and helped put four members of a corrupt narcotics task force in Federal prison. Gore has been featured on 60 Minutes and has been honored for excellence in the field of criminal investigation. He has a Masters Degree from UC Berkeley, is trained in forensic science, and has lectured to attorney and investigator organizations on subjects ranging from police misconduct to the design of sophisticated investigative databases.
Advertisement