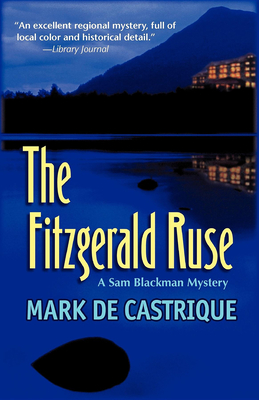 The Fitzgerald Ruse (Paperback)
Poisoned Pen Press, 9781590588048, 250pp.
Publication Date: October 5, 2010
Description
Former Chief Warrant Officer Sam Blackman, a disabled veteran, is opening a detective agency with his partner Nakayla Robertson. Their first client, a quirky elderly woman in a retirement community, makes a strange request. She wants Sam to right a wrong she committed over seventy years ago. Her victim--F. Scott Fitzgerald; her crime--stealing a manuscript when Fitzgerald resided in the stately Grove Park Inn. Sam's task seems simple enough: retrieve the woman's lockbox and deliver the manuscript to Fitzgerald's heirs. Nothing is simple for Sam. The lockbox is sealed with a swastika, a symbol his client insists predates the Nazis and reflects a scene from The Great Gatsby. But when a security guard is killed and the lockbox disappears, Sam realizes this case is more than he bargained for.
About the Author
Mark de Castrique grew up in the mountains of western North Carolina where he sets his Barry Clayton mystery series. Mark is a veteran of the television and film production industry and he serves as an adjunct professor at the University of North Carolina at Charlotte
Praise For The Fitzgerald Ruse…
"Readers will hope to see a lot more of the book's amiable characters, in particular, Sam and Nakayla, whose comfortable banter lends the story much of its charm." –Publishers Weekly on The Fitzgerald Ruse   "An excellent regional mystery, full of local color and historical detail." Library Journal on The Fitzgerald Ruse   STARRED REVIEW "A wealth of historical detail, an exciting treasure hunt and credible characters distinguish this fresh, adventurous read." –Publishers Weekly on Blackman's Coffin
Advertisement