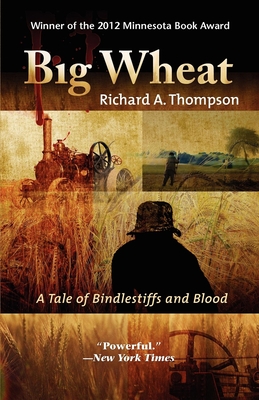 Big Wheat: A Tale of Bindlestiffs and Blood (Paperback)
A Tale of Bindlestiffs and Blood
Poisoned Pen Press, 9781590588222, 235pp.
Publication Date: January 4, 2011
* Individual store prices may vary.
or
Not Currently Available for Direct Purchase
Description
The summer of 1919 is over, and on the high prairie, a small army of men, women, and machines moves across the land, bringing in the wheat harvest. Custom threshers, steam engineers, bindlestiffs, cooks, camp followers, and hobos join the tide. Prosperous farmers proudly proclaim "Rain follows the plow," meaning that the bounty of the land will never be exhausted. Everywhere, people gleefully embrace the gospels of progress and greed. The threshing season is on.
But there is also an evil upon the land. A killer who calls himself the Windmill Man believes he has a holy calling to water the newly plucked earth with blood. For him, the moving harvest is a target-rich environment, an endless supply of ready victims. He has been killing for years now and intends to kill for many more. Who could stop him? Nobody even knew he existed. Until now. A young man named Charlie Krueger also follows the harvest. Jilted by his childhood sweetheart and estranged from his drunkard father, he hopes to find a new life as a steam engineer. But in a newly harvested field in the nearly black Dakota night, he has come upon a strange man digging a grave. And in that moment, he has become the only person who can stop the evil, if he lives long enough. For the killer knows his name and his wanderings, and he, too, is now a target. When next they meet, one of them will have to die.
About the Author
Richard A. Thompson is a civil engineer who traded his transit for a laptop and now writes mysteries full time. His first book, Fiddle Game was short-listed for a Debut Dagger Award. The second in the series about bail bondsman and former bookie Herman Jackson, Frag Box, was a finalist in the Minnesota Book Awards. Big Wheat is his first stand-alone historical mystery.
Advertisement