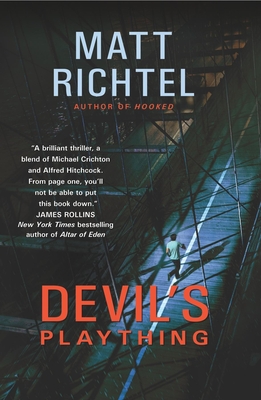 Devil's Plaything (Hardcover)
A Mystery for Idle Minds
Poisoned Pen Press, 9781590588871, 324pp.
Publication Date: May 3, 2011
Other Editions of This Title:
Mass Market (5/31/2011)
Mass Market Paperback (6/1/2011)
* Individual store prices may vary.
Description
Medical journalist Nate Idle has stumbled onto an extraordinary conspiracy and the ultimate mind game. Suddenly, in pursuit of the truth, he's running for his life through the shadows of Silicon Valley, a human lab animal caught in a deadly maze of neurotechnology and institutional paranoia. And his survival rests entirely in the hands of his eighty-five-year old grandmother, Lane, who's suffering from dementia, and can't remember the secret at the heart of the world-changing conspiracy.
About the Author
Matt Richtel is a Pulitzer-prize winning journalist, novelist and syndicated daily cartoonist. Since 2000, he has worked in the San Francisco bureau of the New York Times, writing about technology, how it impacts society, and how heavy use of gadgets changes how we live, work, and relate to each other. His recent series Your Brain On Computers, has illuminated how technology use even changes how our brains are wired. His series about distracted driving won the 2010 Pulitzer Prize for National Reporting. He was a finalist in 2007 for the Gerald Loeb Award for coverage of the Hewlett-Packard spying scandal. He has also covered Internet gambling, identify theft, the Silicon Valley boom and bust, video games, mobile communications, and the business of pornography. His first novel, Hooked, was a critically-acclaimed bestseller and Booksense selection called by USA Today pure, heart-pounding escapism. He also writes Rudy Park, a daily comic strip that has been syndicated by United Media since 2001. The strip revolves around life at an Internet cafe. When not writing, Matt plays tennis and piano (though not well) on an upright piano that survived the bombing at Dresden. He lives in San Francisco with his wife, Meredith, and their son, Milo, and the couple is expecting a new addition, daughter, in Sept. 2010. Matt grew up Boulder, Co, and received his bachelors degree from Berkeley and a graduate degree in journalism from Columbia University."
Praise For Devil's Plaything: A Mystery for Idle Minds…
"This thriller pushes the envelope to the edge and beyond in exciting and unique ways. Talk about a buddy story: How about a seasoned investigator and his octogenarian grandmother rushing against a ticking clock? Smart, captivating, sophisticated, I can't say enough about this deftly-told story."   — Steve Barry
"With Devil's Plaything, Matt Richtel confirms what his first novel suggested: that he's the absolute master of crafting amazing fiction around cutting edge science. Richtel's singular gift is his ability to convey the human components of technological change. This is an utterly absorbing read--gripping, exciting, touching and terrifying."  — David Liss
"In Devil's Plaything, Matt Richtel has once again crafted a brilliant thriller that defies genre and scope, a twisted blend of Michael Crichton and Alfred Hitchcock. The science--ripped from today's headlines--is the backbone for a story both rich in character and riotously exciting. From page one, you'll not be able to put this book down. So get comfortable...you'll be reading this in one sitting."  —James Rollins
"In Richtel's deft follow-up to Hooked (2007), medical reporter Nat Idle thinks someone taking potshots at him and his beloved grandmother, Lane, in San Francisco's Golden Gate Park, may be payback for his snide exposé involving city officials and torched port-a-potties. Further attacks and an encrypted flash drive from a scientist who subsequently disappears soon indicate otherwise, and Lane's disjointed statements related to a computer-assisted oral history project suggest that she may know more than she's capable of revealing about a larger conspiracy. Surrounded by dubious figures such as a mysterious venture capitalist, an anal-retentive nursing home manager, a neurologist with suspicious connections, and a colorful witch who reads people's auras, Nat is wary of trusting anyone and frantic for Lane's safety. Numerous plot twists and cliffhangers keep the reader turning the pages in this plausible if disquieting scenario of Big Brother not only watching but also messing with minds." —Publishers Weekly
"Set in San Francisco, it's a fabulously swift moving thriller of the old fashioned variety. A good hearted, and endearingly fallible hero chasing after the bad guys and eventually emerging victorious." —San Francisco Chronicle
"Fast pacing keeps the pages turning in this entertaining thriller." —Booklist


or
Not Currently Available for Direct Purchase