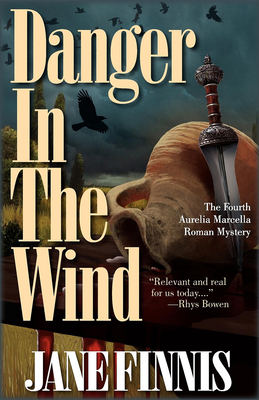 Danger in the Wind: An Aurelia Marcella Roman Mystery (Hardcover)
An Aurelia Marcella Roman Mystery
Poisoned Pen Press, 9781590588901, 250pp.
Publication Date: December 6, 2011
Description
A fine summer in 100 AD and good government under Trajan Caesar promise well for the Roman settlers in the frontier province of Britannia.Aurelia Marcella runs a mansio on a busy road to York. June is always busy, but one day two unusual events occur: a soldier is murdered in his bed at the inn, and a letter arrives from Isurium, a small fort north of the city. It is from a cousin, Jovina, inviting Aurelia to a midsummer birthday party. But the missive also reads as a plea for help, referring to danger in the wind. The murdered soldier also bore a message, locked in Aurelia's strongbox, indicating violence would erupt at the very same fort on the day of the party.At Isurium, Aurelia finds Jovina and her drunken husband and unruly children caught in a tangled web of greed, love, intrigue, and death. When violence engulfs the district, Aurelia suddenly finds herself in peril from enemies engaged in an anti- Roman plot and from family members bent on misguided or evil agendas of their own. This is the 4th in a series.
About the Author
Jane Finnis lives in Yorkshire, northern England, with her husband Richard. Her mysteries are set in Yorkshire too, but nearly two thousand years ago, in the days of the Roman Empire. They feature innkeeper Aurelia Marcella and her family, and DANGER IN THE WIND is the fourth in the series. When not writing, Jane enjoys travel, the company of two cocker spaniels, her garden, and playing her guitar.
Praise For Danger in the Wind: An Aurelia Marcella Roman Mystery…
"This entertaining addition to a lively series drives home the point that, even centuries ago, love and money were the primary motivators for murder."—Booklist
"Finnis's well-crafted prose subtly weaves authoritative detail into a believable portrait of everyday life near the turn of the millennium. More historical adventure than conventional mystery, but highly readable and endlessly absorbing." —Kirkus Reviews of Buried Too Deep

"And anyone who--like author Finnis--has ever marveled at how straight and well-built many of the Roman roads of England still are should enjoy this entertaining look back."—Chicago Tribune
Advertisement